RCHS Seniors Cast Their Vote
On Tuesday, Nov. 2, Virginia held state and local elections. For seniors at Rockbridge County High School who have turned 18, they are now eligible for one of the privileges of the American citizen: voting.  
In a poll conducted of RCHS seniors, out of the 35 students who replied, about a quarter were eligible to vote in the VA state and local election on Nov. 2. Out of those who could vote, the poll found that two-thirds of those students actually voted. A couple of these students were willing to be interviewed about their experiences.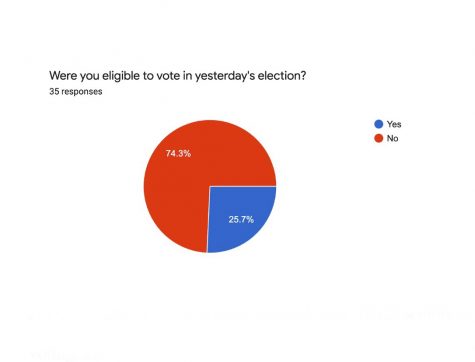 Luci Hanstedt is one such senior who voted for the first time in the recent election. 
 "It was quick! I was expecting there to be a lot more people, but it was also 6:30 a.m. so maybe that's why," said Hanstedt.
When asked about how she researched to prepare for voting, Handstedt turned to informative sources.
"The Instagram account for STAND (the RCHS Student Teacher Alliance for Non-Discrimination) posted information about people running, which was super helpful," said Hanstedt.
"I think it's very important to research the candidates and take voting seriously," said Hanstedt, "Voting is important for everyone to do because it gives people a chance to voice their opinions about what matters to them."
Senior Lorraine Lilly was another student new to the voting process who described her experience.
"I'm actually not sure what I expected voting to be like, I was just excited to participate. Walking in the process was very quiet, people just walking in,voting, and walking out. No one seemed like it was a big deal," said Lilly.
Lilly also spoke on the importance of  voting.
  "A lot of people seem to complain about the governments' decisions, saying they disagree on certain topics," said Lilly, "by voting you are giving your own input, and opinions to the government. You are making these politicians and organizations serve the general public, not just making rules."
Lilly emphasized the importance of voting for high schoolers.
"You are making your own future. With the increasing political divides and so many loud personalities it can be easy to fade to the background and let them have the run of the table but individually, the one critical piece of the process is knowing that your actions, like your vote, are important enough to make a difference."
Chris Gallagher is the AP Government teacher at RCHS. As he elaborated, the Government teachers at RCHS teach students about the civic duty of voting. They also encourage students to register to vote and participate in elections that take place.
"While all forms of political participation have value in a democratic republic, voting is the most important," said Gallagher, "the United States was founded on the Enlightenment concepts of representation and republicanism. If large numbers of citizens do not vote, then these concepts, to be blunt, fail. How can we expect our governments to be truly "representative" when those elected may not actually reflect the interests of the entire citizenry?"
Gallagher gave some advice for high schoolers who don't know the process required for voting yet.
"Go online and make sure that you know your polling location.  If in doubt, you can call the local registrar's office," said Gallagher, "In addition, make sure you bring some sort of identification with you when you vote.  Virginia law does not currently require photo identification, however you do need to provide some sort of identification in order to vote."   
In a final piece of advice to students, Gallagher reiterates how voting allows ordinary people to have a voice in government.
"It is easy to get frustrated these days regarding politics, no matter which party you identify with. If you would like to see change, then make sure you vote. Sure, post about it on social media or go to protests. But voting is the best step to take to help make a better future," said Gallagher.