Wrestlers Are Getting Ready To Pin Down The Season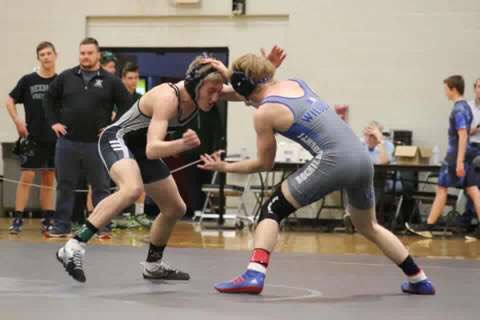 Nakole Allen, Reporter
September 19, 2019
The RCHS Wrestling team is getting prepared to win states this winter. Last year, the wrestling team was undefeated in duels and won their first tournament. The season has yet to begin, but the wrestlers are getting prepared for the season by getting involved in different sports or offseason practices. 
Sophomore Alden Dorey has been preparing for wrestling in his own way.
"Right now I'm playing soccer before season which is gonna help a little bit with cardio," said Dorey. "A couple weeks before season we do practices." 
Dorey has been setting goals for his season. Dorey has been wrestling since he was in the third grade, but this will be his second year as a wrestler for RCHS. 
"I like to wrestle because it's fun to toss people around when you can," said Dorey. 
Each team has a specific bond that means something to each player. The wrestling team spends countless hours together because of their offseason and in season practices and matches.
"I like how the team is supportive even in the hardest practices," said Dorey.  
Senior John Sedovy is a Varsity wrestler and has been since his freshman year. 
"The RCHS wrestling team has been great for me," said Sedovy. "It has been by far my favorite sport for all of high school and the program has helped me grow my skills every year I've been in it."
Sedovy is preparing for the season in his own way. He is running in the fall as well as doing camps in the Summer to prepare for the wrestling season.
"I run Cross Country in the fall to get in shape and do camps and clinics throughout the Summer," said Sedovy. 
He is also setting goals for himself and his team for the upcoming season. 
 "Last year I got fourth in states. This year, I want to get first or second. As far as my goals for the team, last year we set a program record for how many people went to states," said Sedovy.  "If we see the same growth we saw last year, there is no reason some of those people shouldn't place."
Sophomore Jacob Campbell is a wrestler who is also starting to prepare for the wrestling season this year. 
"I prepare for wrestling with offseason practices at VMI along with workouts," said Campbell.
Campbell has also been setting goals for his season. Campbell has been wrestling ever since he was in fifth grade.
"I was interested in wrestling because of my dad, and I grew up watching it," said Campbell. 
             Campbell also mentioned some of his favorite parts about wrestling and why he continues to wrestle.
Campbell said, "My favorite parts about wrestling are the people on the team, the bonds we make, and the life lessons we learn."