Our Fall Athletes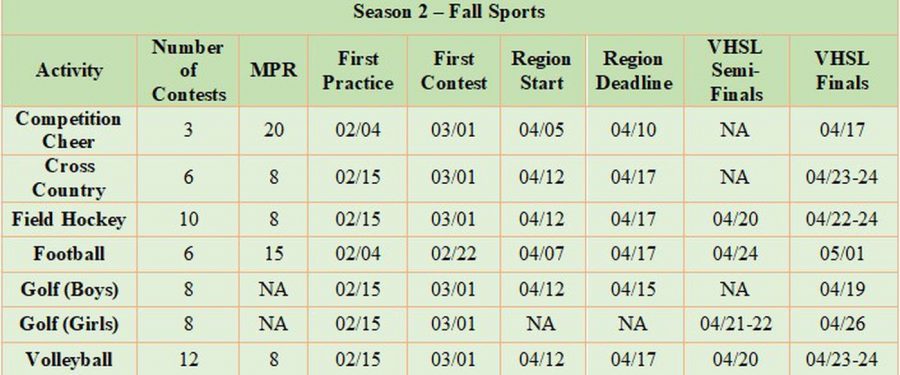 The coronavirus has ruined a lot this year: everyday life, plans, events, school, and sports. With school being online, sports have become a big question. However, VHSL has come up with a plan for student-athletes to be able to have a sports season. Winter sports are first up this year beginning Dec. 7. Those will be followed by fall sports beginning Feb. 4. The  fall athletes of RCHS have to wait a little longer this year to play, but some of them are already getting ready. The golf team has been very successful in the past few years. 
Sofia Vargas is a sophomore at RCHS and was on the golf team last year. "I tried to go out almost every day of the week to practice and fix my putting game," said Vargas."I tend to avoid going out by myself because I have no pressure on me when I go to hit the ball, whereas if I go out with someone, I have more pressure." 
Vargas was first time golf player and through the year, she was able to get second in girl qualifiers meaning she was able to advance to state. "My highlight would be the progress I made." Vargas says. 
"Choosing to play golf was definitely one of the best decisions I've made," said Vargas."Without Coach Miller, I would not be where I am today." 
David Miller is the head coach of the boys and girls golf team. 
"I am always looking forward to the golf season," said Miller. "We have been very successful for a number of years, and we have a great bunch of young women and men on the team."
Another fall sport this time of year brings is football. Naturally, football season brings Friday night lights, homecoming, dress up days, and tons of school spirit. Sadly those things have to wait, but some of the athletes are already ready for the season. 
Landon Joines is a sophomore at RCHS and was on the junior varsity football team last year. 
"We had conditioning in July, but that was cut short," said Joines. "I've been running and lifting what I could find heavy around my house." 
Nick Oylar is also a sophomore at RCHS who was on the varsity football team last  year. 
"I run one and a half miles every day," said Oylar.
Oylar has been working very hard to prepare for the season along with all the other athletes. Clearly, they are preparing for their upcoming season.              
Mike Gale is RCHS' current Athletic director.
"RCHS will start conditioning and workouts for a lot of sports starting Oct 5" says Gale
That will mostly be for winter sports but some fall sports will begin workouts around that time. The fall athletes will play in some colder weather but as Coach Miller says, should hopefully get to play!
"We might need warmer clothes but really hope we get to play. I am looking forward to a great season," said Miller.