RCHS Students Love Krispy Kreme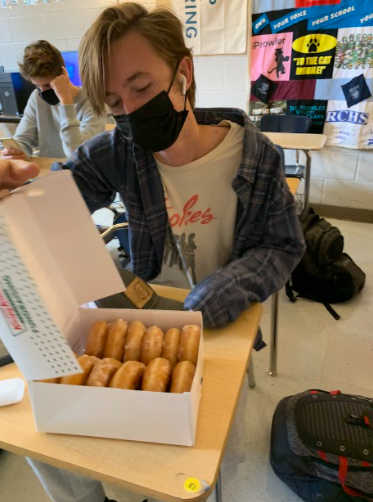 The views expressed in this article belong to the reporter, and do not reflect the views held by Rockbridge County High School, the Prowler Staff, and its members.
As a result of the Junior Class SCA fundraiser, a multitude of Krispy Kreme doughnuts made their way into Rockbridge County High School. Students and teachers alike expectantly awaited this day, dreaming of their wide variety of flavors from the classic glazed to jelly and cream filled donuts. 
Many students decided to keep it classic and stick to a dozen glazed doughnuts.  Sophomore Maddie Dahl enjoyed her dozen of the cult classics.
"Krispy Kreme glazed donuts melt in your mouth and are the food of champions," said Dahl.
Some students decided to choose the chocolate donuts. A simple chocolate glaze over top of the normal glaze. Including junior Daronde Stores who purchased one box of doughnuts.
"Ever since I heard that NBA Youngboy loved Krispy Kreme I had to try it. The chocolate donuts are like a brand new album from Yung Swavo, absolutely fantastic!" said Stores.
While some stuck to the classics, other students got more creative with their selection. Senior Zach Bean decided to go with lemon cream filled.
"I love Krispy Kreme doughnuts, " said Bean, "I get the lemon-filled ones, people who ask for them decide they don't want them. And I get them all to myself."
Personally, I went with the chocolate glazed donuts. They were wonderful, a great mix of sweet and savory. Especially when warmed in the microwave, the glaze melts wonderfully, enhancing the overall flavor. The donuts were so light and airy, I was able to eat a whole box in one day.
Overall students had an extremely positive response to the Krispy Kreme donuts at Rockbridge County. It provides both a tasty treat and an enjoyable reward after a strenuous first few weeks of school.