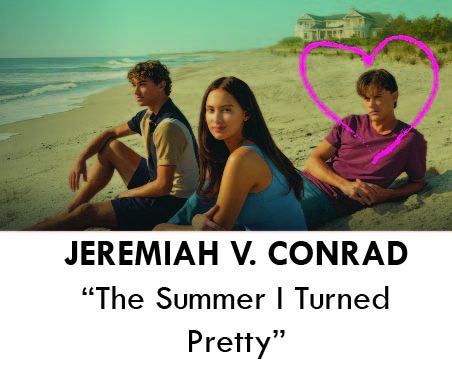 "The Summer I Turned Pretty" made its debut on Prime Video on June 17, 2022. From the beginning, it captured the hearts of millions of girls around the globe. However, the question remains: Who is better for Belly, Jeremiah or Conrad? 
The show follows the life of teen girl, Isabella "Belly" Conklin and her ties to her mother's best friend, their beach house, and most importantly, her two sons  that vie for Belly's attention. While the series clearly sets the audience up to feel the unsureness of which boy to choose, both seasons have made one thing clear. Conrad is the clear winner.   
Season one begins by revealing Belly's past and how she has always dreamt that Conrad would someday "want her."  As alluded to in the series' title, upon her arrival to the beach house Conrad ultimately "sees" her for the first time. This is mainly considering how different she looks and how much she has changed since the previous summer. He is obviously interested in pursuing Belly, taking every  opportunity to flirt with her, but the news of his mother's development of  cancer prevents any of his feelings from surfacing. The rest of the season is mostly spent with Conrad being distant and the tensions growing between Belly and the two brothers. As season one came to a close and everyone discovered the burden Conrad was bearing, Conrad apologized to Belly and they began a relationship despite his brother, Jeremiah's, disapproval. 
Season two premiered on Prime Video on July 14, and opens retelling the past year Belly and Conrad had since the previous summer at Lake Cousins. Though most of their relationship was good, Conrad withheld information about their relationship to his brother, who still had feelings for Belly, further complicating matters. It was revealed that Conrad broke up with Belly in the midst of this chaos to focus on his mother and her growing illness. Unfortunately, Conrad's mother was consumed by this cancer and she later passed away. With the absence of a main character, this season revolves around the issues of maintaining their beach house, coping with loss, and Belly figuring out whether she should move forward with Conrad or choose Jeremiah instead. 
Both Jeremiah and Conrad have positives and negatives to their character. However, Conrad's positives greatly out way those of Jeremiah. Specifically, Conrad has been there for Belly when she has needed it, has loved her since childhood, and has had a deeper connection with Belly that doesn't revolve around intimacy. It is fair to argue that Conrad, despite his short falls, would make a better long term partner due to this deeper connection and understanding of Belly. Although, this does not reflect in the season two finale as Belly chooses to pursue her relationship with Jeremiah. 
It is true that Conrad is not the upbeat, lighthearted, sweet character that Jeremiah has proven himself to be. However, regardless of Conrad's moody moments, mysterious persona, and stupid decisions, he has proven that he is the better partner for Belly by recognizing his wrong doings and making efforts to make amends. The connection they built cannot be replaced with Jeremiah's charming charisma, although the percentage of girls rushing to join "Team Jeremiah" may have a difference of opinion. 
See Sinthya Cruz-Perez's article for the other side.