Hoover Releases Sequel to BookTok Sensation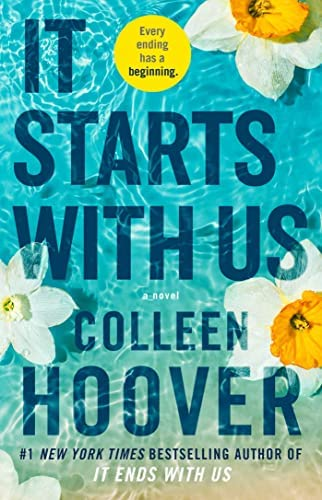 In Aug. 2016, Colleen Hoover released a thrilling romance novel titled It Ends With Us. This review will contain spoilers for It Ends With Us. The story depicted her main character Lily Bloom starting her life after college, opening her own flower shop, and falling in love with Ryle Kincaid. Lily and Ryle's relationship was horrible. He pushed her down stairs after discovering her ex boyfriend's, Atlas Corrigan, phone number and committed further violence. The novel concluded with the birth of Lily's daughter, Emerson Dory Kincaid, and her decision to divorce Ryle. Colleen was not planning to write a sequel, however, BookTok's demand for a more satisfying ending for Lily and Atlas inspired her newest novel It Starts With Us.
In the sequel, Ryle and Lily are finally becoming comfortable with their co-parenting situation. However, on Lily's way to drop Emerson off with Ryle, she runs into her first love Atlas Corrigan. With much excitement and fear Lily and Atlas begin to rekindle their old relationship. The amazingly well written novel also delves into Atlas' past and the rebuilding Lily faces after leaving her abusive marriage. 
Colleen Hoover's novel is extraordinary because of how effortlessly she addresses a topic that many writers consider taboo. The sequel deals with the true definition of a healthy relationship. Lily Bloom is a survivor of domestic violence and the reader watches her as she struggles to make the right decisions during really complicated situations. Lily is an inspiration.
My only gripe was the familiarity some of the tropes carried. Many of Atlas' actions reminded me of Noah in Nicholas Sparks' The Notebook, or Jay Gatsby in F. Scott Fitzgerald's The Great Gatsby. Hoover used common stereotypes which rang hollow and left me unsatisfied. Of course I was glad he was not an abusive hothead, but out of context Atlas is obsessed with Lily. Sure, they have known each other since they were young, but he is still very attached. The timeline is not very clear, but after 10 years I hoped he would have created emotional distance and security in himself. However, his initial reactions with Lily were much more juvenile and immature.
In summary, the book was well written and discussed many difficult topics. The romance was enjoyable to read and full of vivid description. It Starts With Us created a fairy tale ending for Lily that she deserved and created a satisfying ending for her story.