2017 Albums of the Year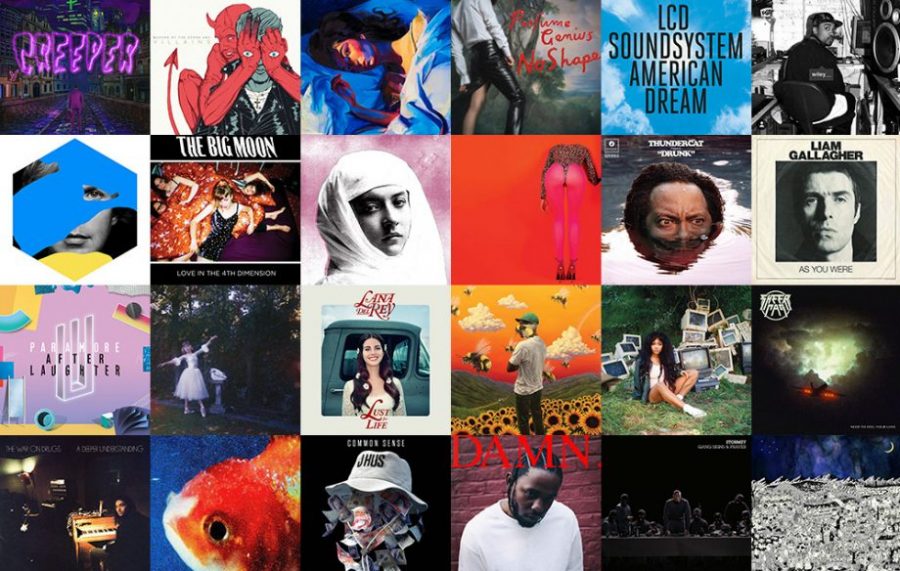 "Flower Boy" by Tyler, the Creator
Tyler, the Creator, gave listeners one of the most heartfelt and sincere albums of 2017 with his most refined project yet, "Flower Boy." Through 45 minutes of an eclectic mix of jazz, electronic, and R&B instrumentals, accompanied by beautiful features from artists such as Frank Ocean, Kali Uchis, Rex Orange County, and Lil Wayne, Tyler spills out all of his previously unheard emotions and thoughts.
Songs like "Boredom" and "911/ Mr. Lonely" reveal Tyler's inner struggle with loneliness and materialism. His clever wordplay and use of metaphors shed light on his problems managing his fame with friendships. Evidenced by subtle and quick lines like "[I am] the loneliest man alive," "Need someone we can loiter in parking lots as sunsets at the border," and "I know you are sick of me talking bout cars…that is the only thing keeping me company," Tyler is in a constant battle with himself, trying to return back to old times before he gained his fame.
Additionally, "Flower Boy" tells the story of a classic romantic struggle, with a slight twist. The fourth song of the album, "See You Again," beautifully describes Tyler's ideal lover, one that is only found in his "dream state." However, Tyler created a significant advancement forward in the genre of love with the song, "Garden Shed." Breaking apart from most traditional rappers, Tyler explores his own sexuality in the song, with lines such as "Truth is, since a youth kid, thought it was a phase / Thought it'd be like the phrase; poof, gone" and "Garden shed for the garden / That is where I was hiding." Despite pressure from music critics, Tyler has kept his own sexuality status personal and has not openly said that he is homosexual. Whatever the case may be, Tyler crossed into a new territory that is typically not explored by other mainstream rappers.
Overall, "Flower Boy" is a tale of growth and maturity. Tyler, aware of his past personal mistakes, uses the album to confess his personal struggles and start a new beginning. Taking a completely different approach from past albums like "Cherry Bomb" and "Wolf," Tyler has fully utilized all of his many talents and produced one of the most polished albums of the year. Like he says in "Where This Flower Blooms," Tyler has finally "bloomed."
"Ctrl" by SZA
After releasing a string of singles including "Drew Barrymore," "Love Galore," and "The Weekend," SZA brought plenty of attention to her highly anticipated album "Ctrl." The album contemplates love, from breakups to makeups. SZA takes her fans on a ride of vulnerability, promiscuity and most importantly, confidence. This roller coaster of emotion is emphasized in SZA's voice as she is able to seamlessly shift octaves to express her feelings.
Despite SZA's emotional perils, SZA rejoices in her sexual endeavors in songs such as "The Weekend" and "Doves In The Wind." On the track "The Weekend," SZA sings, "You're like 9 to 5, I'm the weekend make him lose his mind every weekend." She is honest and sometimes brutal in her approach to infidelity as she constantly sings about sleeping with multiple men or sleeping with someone else's love interest.
While SZA sings about her promiscuous ways, she also sings frequently about her "need" for someone. In her hit single "Love Galore," SZA teams up with established autotune star Travis Scott to sing about her desire for love. Scott opens the song by repeating the lines "I need, I need"  five times before SZA chimes in by singing "Love, love, love, love." In the song "Garden (Say It Like Dat)," SZA also opens with lines about her need. "Need you for the old me/ Need You for my Sanity/ Need you to remind me where I come from."
The second to last song on the album, "Pretty Little Birds" effortlessly paints an image for the listener of SZA's desire for love. SZA uses flight to describe her cycle of love. "Pretty little bird/ Pretty Little Bird/ You've hit the window a few times," she continues to say "You still ain't scared of no heights/ When the spiral down feels as good as the flight." SZA uses the flying to illustrate the thrill she gets from adventure and how even though she experiences pain, she is willing to get up and fly again.
The album is well-crafted and beautifully themed, it's a journey of a growing woman that is relatable and honest. The songs tell stories while allowing the listener to float in time and become surrounded in SZA's lyricism and melodic production.
"DAMN" by Kendrick Lamar
"DAMN." Both the name, and an appropriate reaction to Kendrick Lamar's fourth studio album, released in early summer 2017. Coming off of the immense commercial success of his powerfully delivered third studio album, "To Pimp a Butterfly", and the acclaim of his most recent extended play, "Untitled Unmastered," "DAMN" yielded a piece of art that has only further solidified Kendrick's stature in hip-hop's canon.
The album as a whole is powerful, but the lead single Humble, which was released about two weeks before the rest of the album, garnered massive media attention and earned Kendrick his first number one Billboard hit as a solo artist. Featuring an unforgettable piano riff on a high energy beat produced produced by Mike WiLL Made-It, Humble contained iconically quotable lines such as, "B*tch be humble, sit down, be humble" and "My left stroke just went viral."
Although "HUMBLE" was certainly the most popular song on the album, DAMN was composed of multiple other hits like "DNA," which, like many of Kendrick's songs, celebrates his black culture and heritage, through lines like, "I got, I got, I got, I got–/ Loyalty, got royalty inside my DNA/ Cocaine quarter piece, got war and peace inside my DNA."
The album's other two singles, "LOYALTY" and "LOVE" proved to be incredibly impactful songs as well. On "LOYALTY," R&B artist Rihanna steps in with a verse that glides over the beat and creates a song that can only be classified as a banger. "LOVE," which features Zacari, an up and coming lyricist, is my personal favorite song on the album, as it perfectly combines R&B and hip-hop into a beautifully executed love song of its own category.
The release of "DAMN" represents the continuation of Kendrick's unbelievably successful rap career that seems to produce albums so immaculate that their eloquence and grace still surprise Kendrick's fiercely devoted fanbase and the general populace as a whole. At this point, Kendrick Lamar has achieved a level worthy of one of the album's best songs: "GOD".