Franks Makes A Mean Buffalo Chicken Sub
By: Alejandro Rush
Nobody can make a mistake in going to Frank's. The spectacular dining atmosphere and food selection are augmented by the elite craftsmanship that goes into each and every bite.
Hearing my mother tongue, Spanish, behind Frank's counters was instantly welcoming. For those who do not speak Spanish, the Spanish "olé's" from the employees and Italian "sbrigati's" from the owner mesh to create a melodious atmosphere of multiculturalism.
I ordered my usual at Italian restaurants: the Buffalo Chicken Sub and a side of fries. Although this may not scream Italian, what matters is the artisanship with which the dish is created—not its cultural background.
The waitress swam through a sea of bilingualism and pleased customers to bring me my dish in a timely manner. The amount of buffalo chicken was astounding. It seemed as if they had cooked an entire chicken just for me, the powerfully spicy poultry pouring out of the ends of the bread.
My primal instincts kicked in, driven by a ravenous appetite borne from a natural craving for carnivorous delicacies, I indulged in my spicy sandwich. The broiling buffalo sauce had its way with my taste buds. I could feel them, exploding—nay, imploding—with every morsel of succulent, spice-infused chicken that they came in contact with.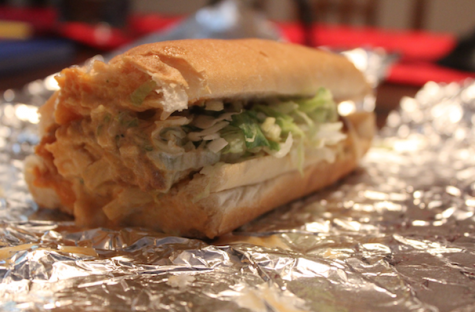 Succulent buffalo chicken sub drips with sauce. Photo by Alex Rush
Almost as if calculated by Einstein himself, the perfect bread-to-chicken ratio prevented my tongue from being overly manhandled by the magnificent picante poultry. Each moment I felt the slightest inkling of discomfort on my tongue from the sauce's hotness, the bread swooped in to save the moment by muffling the sauce's effect. Serendipitous.
The fries were cooked to perfection. I could almost feel Blackbeard's spirit breathing down my neck, wishing only to touch a piece of that golden treasure that sat on the table. Too bad he is no longer living. This booty was mine. The way I decimated that plate of fries made Germany's invasion of Poland look like small potatoes. As soon as my teeth cracked the crispy golden coating of those morsels of sunshine, a soft inside spilled out.
For those who have not treated themselves to Frank's magnificent menu, it is not too late to indulge in their Italian cuisine.