Naples Brings Italy To RoCo
By: Chris Ritter
Our quest to seek out the best Italian fare in Rockbridge first brought us to Naples. Not Naples, the Italian city nestled on the picturesque beaches of the Mediterranean, but Naples, the Italian restaurant nestled across the street from the picturesque Lexington Walmart.
While outdoor scenery may be lacking, Naples makes up for its unflattering location  with a solid menu of reasonably priced Italian food and a quaint but comfortable atmosphere.
Naples' interior is more or less what is expected of any small town pizza shop: plain and simple. Solid color walls, a few pictures of pasta here and there. It invokes the kind of semi-Italian ambience that makes you hungry for some quality Italian food, but subtly reminds you that you are still at a strip mall on Route 11.
However, if decent Italian food within a five minute stroll from RCHS is what you are looking for, Naples has you covered.
Naples' chicken parm holds its own against other local pizza shops' renditions of the classic sandwich. While the chicken to breading ratio of the sandwich measured in at a far from perfect 6:1,  the overbreadedness did not ruin the sandwich's fresh pillow-soft bread and solidly flavorful sauce.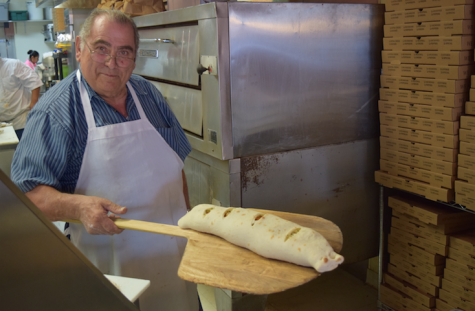 The owner of Naples shows of a freshly baked calzone. Photo by Chris Ritter
However the real story of the review team's expedition to Naples developed when Brinson Mullis received a slightly charred pepperoni calzone. While the calzone seemed cooked to an acceptable but smoky medium well, the Naples head chef, an ardent perfectionist, would not be satisfied with a less than perfectly cooked calzone.
Mullis, who ate the charred calzone graciously, was treated by the chef to a second calzone, this one free of char, and free of charge.
"It's pretty much the ideal calzone experience," said Mullis. "I don't see any better possible outcome in getting a calzone."
All in all, Naples is a solid choice for reasonably priced Rockbridgian Italian food, even if that makes one more reason for a trip to Walmart.