Get Your Popcorn! Lexington State Cinema 3 To Reopen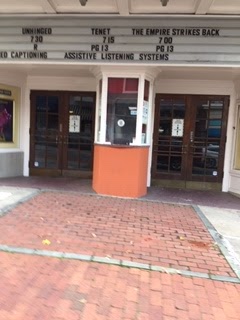 By Reagan Woody. 
On Aug. 27 2020, the doors to the local movie theater reopened up to the public. The theater has been closed since March 20, due to the ongoing threats of the COVID-19 pandemic. However, staff at the theater are up to the challenge of running the theater and keeping everyone safe at the same time. 
Employee Andrew Shifflett is currently working at the theater under the new safety guidelines.
"In the theater, you are required to have a mask upon entry with," said Shifflett. "Online seating has been removed, so people just have to pick a seat in the theater, but it has to be a few seats away from someone else." 
As well as mask mandates and social distancing guidelines, cleaning procedures have been put in place. 
"We come in around an hour before the theater opens to get everything ready, but we also wipe down all the counters, handles, and railings with some strong cleaner. We have this thing you put the cleaner into and it sprays it, like a mist, onto the seats," said Shifflet. "Also, we wash our hands frequently, and there's a foot activated hand sanitizer pump in the lobby." 
Crowds have  been slowly coming back to the theater since the reopening. 
"Reopening has proven to be really slow actually, and not a lot of people come to the theater, especially on the weekdays. But, we are gradually getting more people as they get comfortable coming back," said Shifflett."Also, the capacity is at 50%, meaning that the 32 seat theaters upstairs are limited to 16 people, and the bigger theater downstairs is limited to 32." 
Although mask mandates are in place, concessions are still being made readily available. 
"All of the concessions are still available, and a mask can be  purchased for a dollar," says Shifflett.