Machine Gun Kelly Creates Music During Quarantine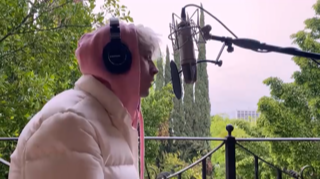 Machine Gun Kelly (MGK) has recently become successful in the music industry. e He is well known for his ability to adapt to different genres, from rap to rock, and even pop. MGK has grown to be quite the musician. Since the Coronavirus outbreak, he has also spent his time singing cover songs, creating new songs, and collaborating on music with other artists. Here are MGK's new quarantine songs from my personal favorite to least favorite:
Pretty Toxic Revolver 
Based on a sample from the Shawn Mendes' song "Mercy," MGK sings about religion and his personal life. He mentions his aunt losing her life to cancer and his father going to rehab. This song truly shows all of Machine Gun Kelly's emotions.  He is typically portrayed as the "wild boy," making it my favorite from his quarantine series.
 Misery Business
A cover of the hit song by Paramore, MGK sings about a mean high school girl who terrorizes her classmates. For many high schoolers, the song is relatable. However, MGK's cover provides a rather masculine appeal, which was enjoyable. The original song was very popular in the early 2000s, however, MGK's cover made the original song gain some new fans as well.
Champagne Supernova
Collaborating with Yungblud, MGK's guitar skills and Yungblud's piano talent create a beautiful duet. Although the song is enjoyable, Pretty Toxic Revolver and Misery Business are more preferable because they are both more emotional and relatable. The vocals in the song are very passionate, and have a very emotional feel to them.
What's Poppin' Freestyle
MGK uses a sample from What's Poppin by Jack Harlow, a popular Tiktok song, to do a very smooth freestyle rap. Rapping about his lifestyle as a rapper, MGK created a new feel to the song that's very different from his original rap. While MGK's has a talented rap style, his rock and pop songs are more preferable, making this my least favorite of his quarantine songs.
Although the songs are ranked from favorite to least favorite,  all of them are enjoyable  and good quality, considering they were recorded from MGK's house. I also thought it was entertaining that he recorded each song in a different room of his house, such as in his bathroom, bedroom, porch, living room, and even his car. I am looking forward to seeing how he continues to create new music during such an uncertain time and where he is next to record it.