Model United Nations Hosts an Online Auction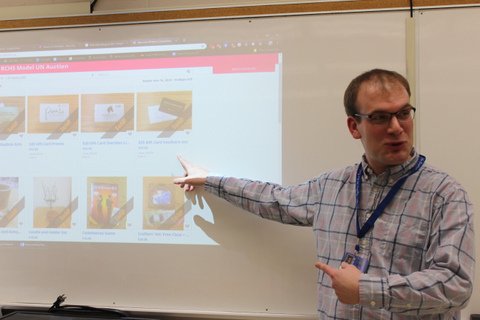 Hang on for a minute...we're trying to find some more stories you might like.
By: Sophia Carlucci
In an effort to raise money for a Model United Nations (MUN) conference at the
University of North Carolina this upcoming spring, MUN held an online auction using donations
from businesses downtown and some artists in the school community. The money was used to
reduce the cost that students have to pay out of pocket.
The leadership team, led by senior Co-Secretary Generals Kate Hentz and Caroline
McCain, were responsible for going downtown and collecting items. Donations consist of small
gift certificates, jewelry, art pieces, and food.
"Our main goal was to reach at least as much with this fundraiser as we did last year,
which was around $300," said McCain. "It is always interesting to see what kinds of items are
donated."
Club sponsor Sandra Hayslette helped to organize the auction, as well. Hayslette enjoyed
seeing the variety of items donated from different businesses.
"We had a huge variety of different kinds of things. Such as, games, artwork, food, and
fitness classes. This is nice because it appeals to a wide variety of people," said Hayslette.
Club sponsor Chris Gallagher enjoyed the uniqueness of having an online auction
fundraiser and believed it helped subsidize Conference expenses.
"I think it was pretty successful. We got a lot of businesses to participate and we raised a
good amount of money. I like it because nobody else has something like this. It stands out," said
Gallagher.
As MUN Executive, junior Cole Cathcart is responsible for proposing future club ideas
and keeping events interesting. Cathcart believes the auction was overall a success.
"It definitely lowers costs for our conference at Chapel Hill, which will open doors for
more people to go," said Cathcart.