Interact Club Elects New Presidents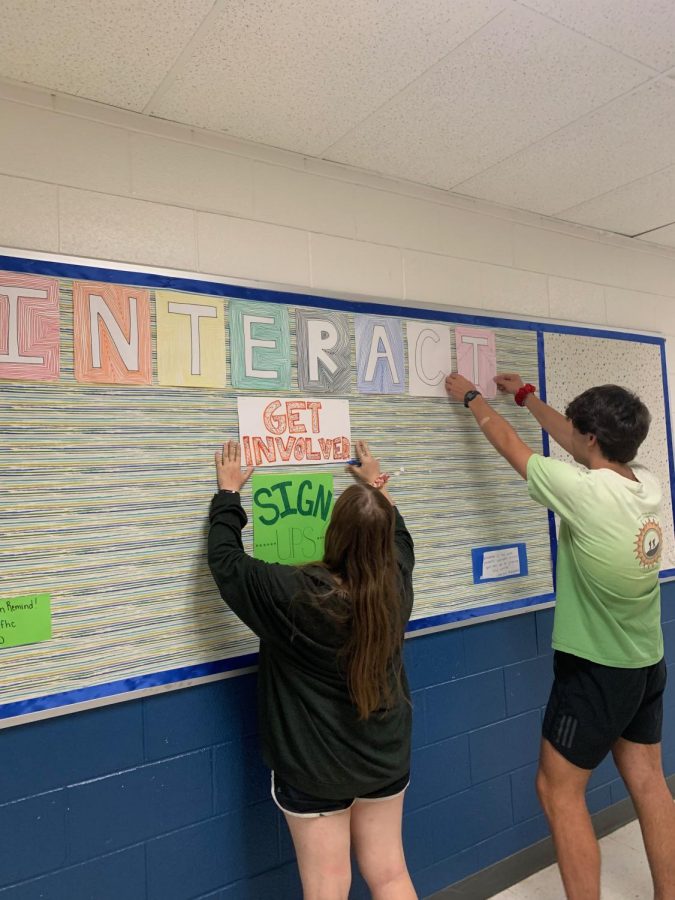 The Interact Club has kicked off the 2019 school year by electing Seniors Margaret Branner and Adam Saacke as the new presidents. The Interact Club is a school sponsored club which organizes volunteering opportunities for students. Sarah Leadbetter is the Interact Club Sponsor.
  "I'm excited about working with Margaret and Adam, and I'm looking forward to seeing what direction they take Interact in," said Leadbetter. "We have some serious fundraising to do, and I especially hope we can put some real passion into our SPCA Food Drive this year." 
Interact is a part of a larger service organization called the Rotary Organization. 
"It's a service club which is one of the branches of the Rotary Organization," said Branner. "The Sunrise Club is for the older members of the community. Rotaract is for the college level. Interact is for the high school level."
Interact Club is built upon the idea of nonexclusive community service, as all members in the school are in the club. 
"It means a lot to me that it's so open and free with what we do. I think organizations like NHS can sometimes be really restrictive and can have a weird dynamic," said Saacke. "Whereas with Interact, you come and do what you can and give the time that you can. It promotes a much more positive outlook on community service."
Interact helps to put on events both at the school level and on a community level. 
"We have our first few service events coming up. We are going to be at the Community Festival, and we plan to help with the Fairy Festival at the Lavender Farm," said Branner. "We also put on Earth Day at the school, which is one of our main events." 
A big focus for the Interact Club this year is expanding the number of members involved.
"We have about 25 executive members, which is supposed to reflect how many non-executives we have, meaning that we hope to get at least 25 non-executive participants," said Branner. "My hope for this year is to grow the membership and get a lot of underclassmen involved, but also create a stronger identity for the club by organizing fun things for the executives and making it a club that everyone wants to be a part of." 
Branner and Saacke were vice presidents last year before becoming assuming their roles as presidents this year.
"The position definitely means more responsibility. When you're vice president, you're really just watching how the presidents do things, and we really didn't have a ton of responsibility," said Saacke. "Now it's a lot of planning, coordinating, and talking to everyone." 
As presidents, Branner and Saacke share the tasks required for planning Interact Club meetings and service opportunities. 
"Margaret and I split the responsibilities evenly. It's really just coordinating events with people in the community, the executives, and Ms. Leadbetter," said Saacke. "On a smaller scheme, Margaret and I do things little tasks like making the sign-up sheets."
Presidents Branner and Saacke have the responsibilities of leading the club members and helping the club expand. 
"I'm just really excited to have this position and be able to lead people," said Branner. "I think I am going to help the club grow, and it will help me grow."