Students' Summer Shenanigans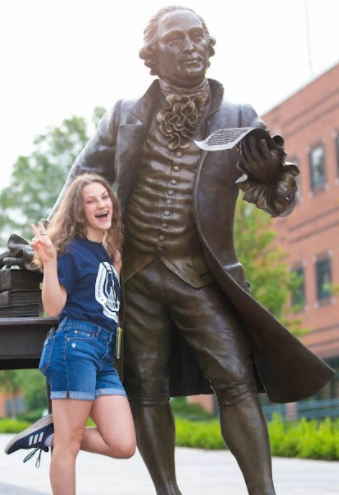 Over the summer, RCHS students participated in a wide array of activities to make the best of the break from school. Some vacationed, some explored foreign countries, some gave back to those in need through service, and some learned new things through conventions and camps. The country faced this summer with innovation and ingenuity after a year crippled by a pandemic to give teens like those in our school a constructive and memorable summer.
Some students like Junior Aubrey Hagenbuch and Senior Smith Hall opted to serve others through Young Life's Work Crew program. Young Life is a Christian organization consisting of camps that high schools across the country send students to every summer. Hall and Hagenbuch joined a group of teens that either worked in the dining room or housekeeping department. 
Hagenbuch had the opportunity to serve twice this summer, both at Carolina Point, a Young life camp in North Carolina and Rockbridge Alum Springs, a Young life camp in Rockbridge County. The experience allowed her to meet new people with common interests and give high schoolers a life changing week at the camps.
"Both times I went into it not knowing anyone and came out with lifelong friends," said Hagenbuch.
Hall joined forces with the Work Crew stationed at Windy Gap, a Young life camp in North Carolina. He served meals in the dining hall with his fellow staff members and he now relishes in the memories of jam sessions in the late hours of the night with his friends. 
Speaking of his experience, Hall said,"My biggest takeaway from the experience is how good God is. He places people in our lives for a reason and nothing happens by chance in His great providence."
Both students gained a lot from their experiences and they learned about what having a stature of service truly means.
"The best memories I have were honestly just sitting down and having genuine conversations with people," said Hagenbuch. "My biggest takeaway I have is recognizing that it's important to serve with humility and not expect anything in return."
Junior Anna Wilson took the educational route by traveling to Fairfax, Virginia for the Washington Journalism and Media Conference. The six day conference allowed 100 high schoolers to hear speakers, such as Carol Guzy, a 4-time Pulitzer Prize winner, and Susan Goldberg, the first female editor-in-chief of National Geographic in places like the White House, Capitol Hill, and the National Mall. The Conference opened the doors to exploring subjects like media and journalism on a deeper level for students like Wilson. 
"It was surreal to see and talk to all these distinguished people, and I am very lucky and I don't take that for granted," said Wilson. "I went to all these awesome places and met these awesome people, but the friends I made at WJMC made the experience 20 times better. I am very grateful to WJMC for not only giving me these opportunities, but also for bringing me the most wonderful people and friends. 
Wilson heard about the conference through an invitation in the mail and although she was skeptical, she couldn't be more grateful for the experience and the takeaways.
"What I really learned from WJMC, though, is taking advantage of the opportunities you are given, because they really can change your life and lead to amazing things."
Junior Elizabeth McClung decided to spend part of her summer outside of the country in Russia. She flew to Russia with her little sister and her mom, a native of the country. This wasn't McClung's first rodeo in the country; she has been a number of times to see her maternal family that still lives there. 
"We went on a lot of walks to the grocery store and the little shops there," said McClung. 
Because of the massive distance between McClung and her family, she really savored the time spent in Russia.
"My favorite part was spending time with my Russian family," said McClung. "I don't get to see them often, so it was really special that we got to go visit."