A Guide For Your Rockbridge County Holiday Event Needs
As a lover of the Christmas season, I always look forward to the time when the holiday atmosphere would settle into Rockbridge County. As the holidays approach, Rockbridge County is gearing up to celebrate with festive parades, tree lighting ceremonies, and volunteer opportunities. Throughout the month of December, Rockbridge will host many festive themed events for everyone to enjoy. 
The first of the holiday festivities that Rockbridge County has to offer are the annual Christmas parades. Each year Rockbridge holds three parades, located in the towns of Lexington, Glasgow, and Buena Vista. The goal of each parade is to showcase all of the wonderful groups and organizations that Rockbridge County has to offer, all with a sprinkle of holiday themed fun. 
Freshman student Mattie Robinson will be marching with the RCHS Marching Band while playing the sousaphone in the Lexington Christmas parade on Dec. 3rd. 
"We practiced for the parade by rehearsing in sectional groups on our holiday marching song. We will also be marching to our Cadence and fight song," says Robinson. 
Robinson continues, saying, "The Christmas parade is special to me because as a freshman it is my first time playing in the marching band in the parade. I believe it is going to be a fun but cold experience!"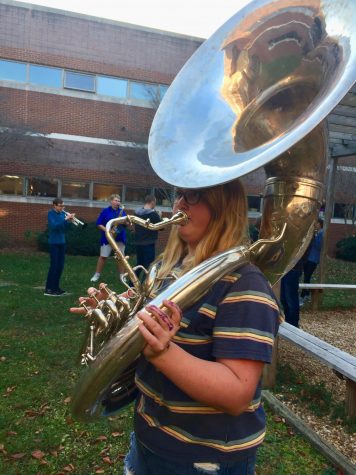 Since it is the season of giving, Rockbridge County also has many volunteer opportunities to help out local families during the holiday season. One of the most well known holiday volunteer efforts in Rockbridge is the packing of Christmas Baskets at the Lexington Horse Center. The goal of Rockbridge Christmas Baskets is to provide families in need all across Rockbridge County with food and toys for the holiday season. 
Junior Abby Brooks will be participating in this holiday volunteering opportunity, and shares her thoughts on the upcoming experience. 
"I think that it has a very positive effect on the community. There are many benefits that come from this, for those giving and for those receiving. It is especially important around the holidays to remember people who support you and with the Christmas basket packing it allows everyone to have that sense of support," says Brooks.  
On another note, one of my favorite parts of the holiday season are the festive lights that adorn the outsides of houses throughout Rockbridge County. In my personal opinion, I always think that the streets in the city of Buena Vista have some of the best light displays. Every year, it is a family tradition of mine to drive through the streets of Buena Vista to try and pick out the best light display.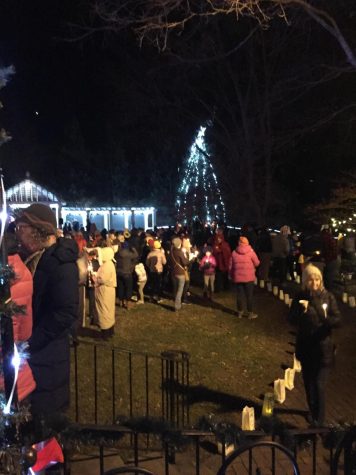 However, I believe that Lexington city has some of the best Christmas tree displays. The two main tree displays that stick out to me in downtown Lexington are the Christmas tree in Hopkins Green and the W&L Christmas tree. One Christmas event that was attended by many on Nov. 26, was a tree lighting ceremony that took place at Hopkins Green to celebrate the upcoming holidays. 
Along with Christmas trees and Christmas lights, during this time of year many local churches that follow the Chrsitian faith begin to celebrate the birth of Jesus Christ. If you are searching for a religious themed activity to attend, Marlbrook Baptist Church in Raphine is opening their doors for people to come and watch the children's Christmas play on Dec. 12 at 6:00 p.m. 
Tate Ramsey, a senior at RCHS and a member of Marlbrook Baptist Church, is playing a role in Marlbrook Baptist Church's Christmas play and shares her excitement on preparing for the production. 
"There is a lot of preparation involved in putting on this play. Mrs. Bonnie, who is the leader of the children's church, has been working every Sunday morning and evening with the cast. We have been working on scripts, songs, and getting a stage set," says Ramsey. 
Christmas time holds a special play in Ramsey's heart, and she is happily participating in this church event to spread the message about the Christmas holiday.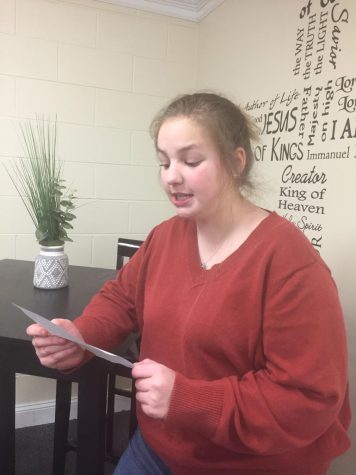 "We are putting on this play so that we can tell the Christmas story and spread the message to people about what Christmas is really about. We also get to tell people about our church and tell people that we are open to visitors!" says Ramsey. 
Up next, if you are into viewing Christmas movies, then I would definitely recommend attending the showing of "Elf" at Hull's drive-in on Dec. 4. Admission to the movie is five dollars to support Rockbridge Area Relief Association, or the donation of a toy to benefit the Salvation Army's toy drive. 
If you are into spending the holidays by exercising, then the Jingle Bell Run is totally for you! Set to be hosted on Dec. 4 in downtown Lexington, you can either walk or run this 5k holiday run. You must pay ten dollars and pre-register for this event. 
With all sorts of festive activities that Rockbridge has to offer, there is sure an event for every person to find enjoyable. For a look at even more holiday activities happening in our county, visit here.