The Cinderella Project To Provide Prom Attire To Dance The Night Away In
As prom season lingers around the corner, many students have started their adventure to find their perfect prom outfit. However, many issues can arise when trying to purchase a formal outfit, and they may be hard to come by. This year, there is another option that RCHS students can seek. 
The Cinderella Project at RCHS helps students who need to borrow formal dresses and formal shirts for prom. This project is currently run by Sandra Hayslette, Gianna McKeeman, Caroline Diette, and Emily McClung. These articles of clothing are available to any student who is in need of them for prom.
Among the available articles of clothing for prom are dresses, sports jackets, formal shirts, and a tux. Dresses available to students run in sizes between 0-18, and jackets, shirts, and blazers run in sizes XS to XXL. Although there are no style guarantees, many different styles of dresses are available. 
RCHS teacher and faculty adviser of the Cinderella Project, Sandra Hayslette, expresses her thoughts towards the progress and goals of the project. 
"I became involved with [the project] in part because I am involved with the student driven work that is starting the food pantry here at RCHS, and what is part of that is [the students helping with the project] have helped out Mrs. Stuttman, who has for the longest time been the keeper of the clothing donations that we sometimes get," says Hayslette.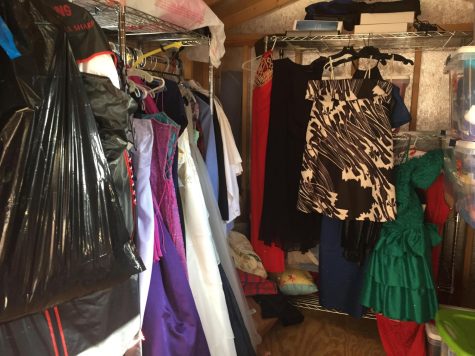 Hayslette continued, "Part of what is stored in Mrs. Stuttman's room is a set of prom dresses that have for years been offered to people who want to wear dresses to prom. We have a range of sizes and a bunch of different styles, and people keep donating them. So we wanted to get them out in public view and get people in them." 
No matter the circumstance, these prom dresses and formal attire are available to everyone. 
"We have a small volume of dress clothes for people who would prefer to be in pants and a dress shirt. We do have one tux! And we do have some sports jackets and dress shirts," said Hayslette. 
If you are interested in borrowing clothes from the Cinderella project for prom, you can fill out the informational form. 
"We have told people to fill out the form and we will do our best. We are welcoming donations and we are welcoming customers," said Hayslette.
Hayslette said, "I hope that this will relieve some stress for some people who want to participate in this fun experience. I also want to make sure that people are more aware that we have this clothing stash and that it is there for them and the Wildcat family and that it should get used and people should feel welcome to do it." 
RCHS student and intern for the Cinderella project, Gianna McKeeman, shares her thoughts. 
McKeeman said, "If a girl is interested in borrowing a dress, they can scan the QR code posted all over the halls and from there she can fill out the form with her size and time availability for a private fitting. If a boy needs prom attire, we can provide a blazer and most definitely can provide dress shirts and ties. Everyone can also check their email where the link to the google form is provided."
"We hope that the Cinderella Program will affect RCHS in many positive ways, but mostly we hope it takes away the stigma of asking for help," said McKemman. 
Throughout the hallways of RCHS, you can find informational posters about the Cinderella Project with a barcode to scan to access an informational form. You can also access this informational form here if you wish to schedule a private fitting to see the selection of dress clothes. If you are interested in donating articles of clothing to the Cinderella Project, you can bring donations by room 104.