Disc Golf Captivates the 'Cats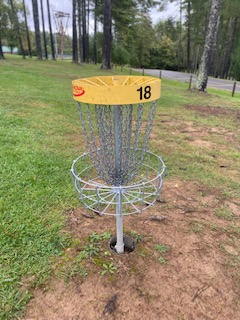 Disc golf has grown in popularity throughout Rockbridge County in the past few years and has become a staple in Rockbridge County High School.
Disc golf has some overlapping characteristics to golf, but also some differences. It has the same scoring concept, and the golfer is trying to throw a disc in a basket, similar to golf where the golfer is attempting to hit a ball in a hole. Instead of hitting the ball with clubs like in golf, disc golf includes throwing discs directly to the basket.
Disc golf is popular among faculty and the student body at Rockbridge County High School. Mr. Brian Hamelman, Photojournalism teacher, is an avid player.
"Disc golf is an incredibly fun and engaging lifetime sport," said Hamelman. "I can play for the rest of my life as long as I stay mobile."
Hamelman also talked about some of the local disc golf locations.
"The Washington and Lee Back Campus Course is currently the only public course in the area," said Hamelman. "However, I have been working with Natural Bridge State Park to create and build a new 18-hole course called Thistle Ridge Disc Golf Trail to complement the W&L course."
Hamelman has also competed statewide in disc golf competitions and is an example of how impactful disc golf can be.
Junior Devin Snyder plays disc golf at W&L weekly. He plays against other RCHS members like sophomore Gardner Clement, Physics teacher Mr. Chris McGrath, and Mr. Hamelman.
"There is no bad energy in the disc golf community, and everyone competes against each other in a healthy way," said Snyder.
Disc golf is a sport that requires no prior experience and can be learned simply by playing.
"The community can always grow because everyone is welcome and we have no restrictions," said Snyder.
Disc golf is a testament to how an activity can bring people of all ages together. Disc golfers are most frequently at W&L on Sunday's if you are interested in trying out something new.