"Terrifier 2" Makes People Faint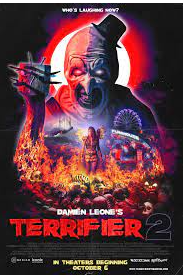 When the movie "Terrifier" was released On Oct. 6  many reviews and opinions from viewers came out about their reactions to the movie. Many reviews have been horrible and many say the movie is very unpleasant to watch. 
  "Terrifier"  is based on a clown named Art, who is a sick person who enjoys taking the lives of people. The creator of the movie spoke to Entertainment Weekly (EW ) and shared, "I had this idea of a clown terrorizing a woman on a city bus."
He also shared how that idea gave him the inspiration to make the first "Terrifier"  movie. "It's awkward and uncomfortable, and maybe even funny, but then it gets progressively more intimidating and aggressive. I thought that was just an interesting, weird idea. When it came to making my first short film I said, "you know what, I'm going to use that, that's going to be the opening,"
  "Terrifier 2" came out in theaters and has also been shared on Amazon Prime. People shared how disgusting and horrifying the movie was so more people were intrigued and eager to go see how horrible the movie was supposedly. 
As that happened, Twitter user Andrew Liming posted a photo of his friend who passed out in the movie due to the movie. Andrew Liming tweeted "My friend passed out and the theater called an ambulance,"
The news spread quickly and was getting more people to see how this movie is. More people would go to watch the movie but with how horrifying the movie was there were also people who would throw up.  There have also been reports of people storming out or having to get medical attention. 
People have been seen in pictures outside the theater seeking help. There have been people in wheelchairs. The director shares "Listen, I would have loved to have a couple of walk-outs, I think that's sort of a badge of honor because it is an intense movie. I don't want people fainting, getting hurt during the movie. But it's surreal,"
Another statement from someone who was in that theater that day said "They guy behind me passed cold and crashed into my chair, another guy left because he didn't feel good, I overheard him say and walking out the theater door I heard a guy puking hard & loud in the bathroom,"
Noah Hamm is a sophomore at RCHS and when asked his opinion on the "Terrifier 2,"
"When I first heard about the people throwing up and it being disgusting I started getting nervous about watching it. While watching the movie it was not scary at all, it was just gruesome," said Hamm. 
Adrian Cruz- Mendez is in 10th grade at RCHS and he watched the first and second movie. He shares his thoughts on the movie and how it made him feel. 
"The first one was gross and if anyone is planning on watching it they should watch the first one first to get an idea of the second one. If they can't handle watching the first one then they should not watch the second one at all." said Cruz- Mendez.
Cruz- Mendez also shared "The movie was just overdone and they did too much. It was gross but it was weird and also like some scenes were just clearly exaggerated. The movie was two hours long and could've ended it at a certain point" said Cruz- Mendez.
"Terrifier 2" has three stars and has been disliked by many people. They have had a hard time watching it and many people have called it gruesome. When watching the movie or considering it, watch at your own risk.