RCHS Showing off School Spirit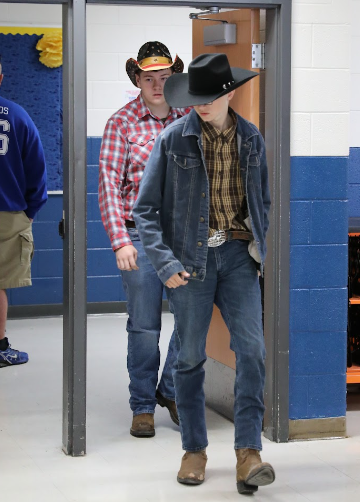 The 2022 Homecoming week festivities got everyone ready for the Homecoming dance and the big football game the Friday Night before.  Some festivities include the Friday pep rally, hallway decorations, and spirit days. Each class gets to decorate a hallway that is judged by some of the teachers and administrators. The hallway decorators went all out this year, but some spirit days were a complete bust. 
There was no school on the Monday of homecoming week, so the spirit day competition between classes began on Tuesday. Tuesday was pajama day. Being Rockbridge County High School, PJ day is almost every day for a large portion of students. That said, it was the most participated in spirit day of the week. Although pajama day is such a basic spirit day, everyone seems to love the excuse to come to school in slippers and fun pants one day of the school year. Leading the classes in spirit was the sophomore class, with 96 participants, followed closely by the freshman class, with 87 participants.  
Wednesday's spirit day was "We are Rockbridge" which was one of the worst possible spirit days that could have been picked. Yes, WE ARE Rockbridge County High School, everyone already knows that. Spirit days are supposed to add fun to homecoming week; this theme was simply boring. Even with the horrible theme, RCHS students still showed out in their blue and silver school swag. The freshman class came out first with 72 participants, followed by the juniors with 60 "We are Rockbridge" participants.
By far, Thursday was the saddest of the spirit days. Crazy hair day did not go crazy with the students of RCHS. Hardly anyone participated; the highest stat from this day was from the senior class, with a measly 20 participants. Shoutout to the students and teachers who put forth their best efforts; there was definitely some wacky hair in the building. Following the seniors were the juniors, sophomores, then freshman. 
Friday's theme was Cowboys and Aliens, somewhat corresponding with the overall Homecoming theme of "Intergalactic." Even though many students did not disappoint with the Cowboys and Aliens theme, it was not the most popular spirit day. The freshman class carried with 30 students participating. Following was the senior class with 37 days. 
The spirit days prepared the RCHS student section to cheer on the Wildcats for a fantastic win on Friday night and have an amazing dance on Saturday.