The Race is Back On! Starlight Express is Set to Reopen
The "Des Ransantesten Musicals des Universums" makes plans to reopen on October 3rd after 16 months of closure due to the COVID-19 pandemic
The German production of the classic musical, "Starlight Express" is set to return to the stage in Bochum, Germany on Oct. 3, 2021. Written by Andrew Llyod Webber, "Starlight Express" is most famously known as the musical that is performed entirely on roller skates. The musical revolves around the story of a young boy's train set that magically comes to life, and races to become the "Fastest Engine in the World!" Rusty, the underdog steam train, feels like he has little chance to beat his bigger rivals, such as Greaseball the Diesel Engine and Electra the Electric Train, until he is inspired by the legendary myth of the "Starlight Express," and ends up beating his rivals! Along with racing, Rusty also is fighting hard to win the hand of his love interest, the First Class Coach, Pearl.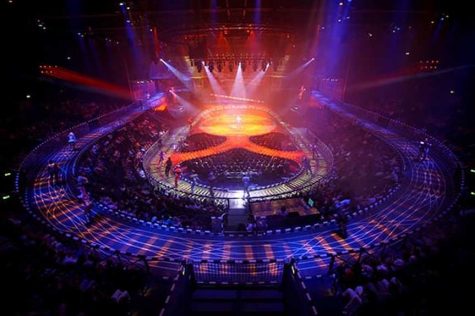 "Starlight Express" has been performed on many stages across the world. It is currently set in Bochum, Germany, and is performed in a theater built specifically for the show. The theater, also known as the Starlighthalle, is built with three stories of ramps for performers to skate down, and a "U" shaped stage, to which the audience is seated inside and around the tracks. It only took a year to build, and is the only permanent production of "Starlight Express." Before it temporarily shut down due to COVID-19, it ran for over 25 years in Bochum, making it the longest running musical in Germany's history. The musical also has a place in the Guinness Book of World records, holding the record for having over 17 million people see the show. 
In the Bochum production of "Starlight Express", the show is performed entirely in German. However, there are occasionally charity performances where the musical is performed in English. In 2018, "Starlight Express" underwent changes. Producers introduced many new costumes, characters, and songs. Some popular songs from the show include Ich Bin Ich, Hilf Mir Verstehen, and Für Immer. Each costume used in "Starlight Express" is crafted to resemble the look of a train, along with reflecting the job of each train. For example, Dinah Die Spiesewagon's (Dinah the Dining Car) costume resembles a 1950's waitress.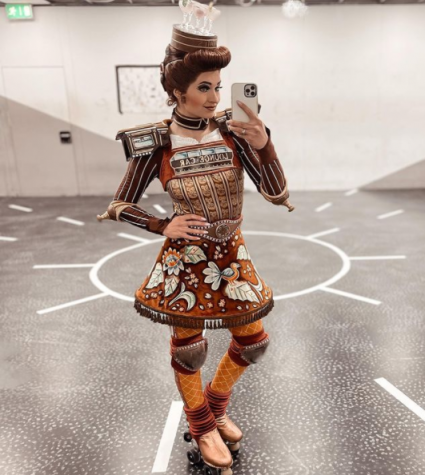 Over in Bochum, Germany, the cast and creative team of  "Starlight Express" are excitedly preparing to debut the show in October. Dieuwke Tönnisen, who is cast as Belle, and covers for the roles of Pearl and Dinah, has been rehearsing for the reopening of Starlight Express since the beginning of July.
"I am really looking forward to performing in front of a live audience again! Feeling the atmosphere in the theatre on a show night is just so special! I can't wait to tell the story of Starlight Express night after night and hear the responses from the audience, and create something special and unique every single night!" Says Tönnisen.
Tönnisen adds that rehearsals for Starlight Express have also posed a new but fun challenge. From COVID-19 tests to long reherals hours, theatre life during a pandemic greatly differs from rehearsals in a normal time. 
"I get into the theatre around 9:30 am. I grab a clean mask at the stage door and go to my desk to get rapid tested for coronavirus. Once I know that I'm negative for COVID, I can go on with my warming-up, plastering my feet, and getting into my skates. At 10 a.m. we start on stage with a skate warm-up circuit. We have skate school from 10:00 a.m. to 1:30 p.m., and after that we have a well deserved lunch break." Says Tönnisen. 
After the cast completes skate warm-ups and skate school, rehearsal days continue with different groups of performers in the cast split up to work on different skills. 
"After that, we continue in different groups. Some move on with vocals, some with choreography, and some move onto phonetic calls for the non-German speakers. Then there are costume and wig fittings, make up calls, and there are character workshops for the lead roles." Says Tönnisen. "By 8:00 p.m. we are all exhausted and we can finally take off our skates! It is the best feeling in the world! We cool down, roll out our sore muscles and head home. By the time I am home, I head straight to bed to get enough hours of sleep for the next rehearsal day!" Says Tönnisen.  
Being a part of Starlight Express means something different to each performer who has skated the stage of the Starlighthalle. Being able to be a part of Starlight Express in Bochum means a great deal to Tönnisen, especially during COVID-19 times. 
"It means the world to me to be honest, especially during these weird times. Working in the theatre is my life and not being able to do my job for 16 months was really hard. I am so happy I am still a part of this production and I still get the chance to perform the show. It is very special to be a part of the cast that's going to bring this show back to life after the first break this show had in 32 years. I am falling in love with the show more and more every single day." Says Tönnisen.
Two previews for Starlight Express have been scheduled for Oct. 1 and Oct. 2, and tickets for the show reopening on Oct. 3 are almost sold out. For a closer look at the cast and ensemble for this year, check out Starlight Express' website here. If interested in purchasing tickets to see Starlight Express in Bochum in October, then you can purchase tickets here. To view a trailer of Starlight Express, view here.