Students Display Works In Downtown Art Show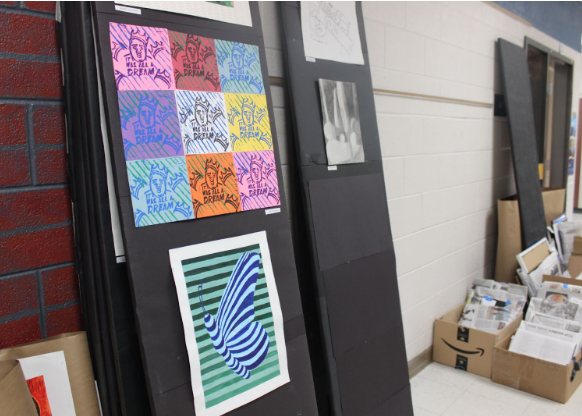 The Art Department consists of two teachers: Erin Allen and Rachel Mckenzie. They teach various levels of Studio Art and Design, Ceramics, and Functional and Decorative Art. Every year, these teachers give the students the chance to display their works during the RCHS Art Show.  
"RCHS Student Art Show will be showing in the following two locations this year: [The] commons area of RCHS and downtown Lexington at Earth, Fire, and Spirit's gallery space. The commons area will likely have at least one art piece from every art student, which is impressive," said Ms. Allen. "The Earth, Fire, and Spirit gallery will not hold as many pieces, so we have to be more selective, [we're] likely sending 50-60 artworks."
Each art student works hard throughout the year. They study different mediums and different techniques. 
"I am proud of all of the work that will be on display because each student artist improved art skills with each piece, and each artist was able to explore subjects of their choice!" said Allen.
There are various levels of classes in the Studio Art and Design realms. As you go up in levels, you do more advanced art and get more spots to display your work downtown. 
"I am very pleased with all of my classes this year," said Ms. Allen. "Obviously, the Studio Art & Design III and IV students have had much more practice and experience with media which shows in their art production."
Elsa Kerin-Rice is a Freshman in Studio Art I.
"Being a freshman and having my art in the gallery feels really cool. I didn't really know I had a passion for art until this year, so getting to see my progress displayed in one space is exciting," said Kerin-Rice. "I'm so glad that I still have 3 more years to learn and practice with different mediums."
The RCHS Art Show will be at Earth Fire and Spirit for most of March, and in the commons March 25 through the 30.