NHS and SCA Members Prepare For 2023 Lip Sync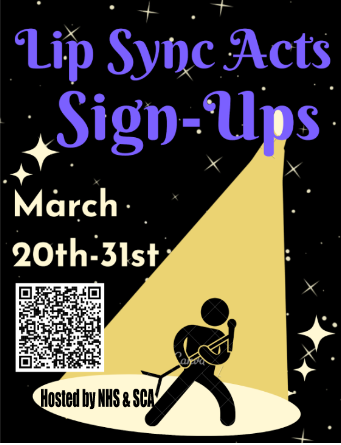 This year, the local chapter of the National Honor Society hosts the annual Lip Sync Battle. Students and teachers alike band together in groups and perform different songs. The Lip Sync is a way to raise money for Cystic Fibrosis research. Cystic Fibrosis is a life-threatening disease inherited at birth. There isn't a cure yet, and research is ongoing. The purpose of the Lip Sync is to have fun, but it's also to raise money for a Cystic Fibrosis charity. A few of the students here have Cystic Fibrosis, so the event is near and dear to many.
Junior Lee Carter is a member of NHS.
"I am super excited for the Lip Sync. I've never been before. It sounds like a ton of fun, and it's for a good cause — it raises money for cystic fibrosis," said Carter.
People have the opportunity to sign up in groups or individually to perform.
"We are currently recruiting acts for the performance. We need 16-20 acts. One person per group needs to sign-up. They can sign up by finding the link sent to their email or scanning the QR code on the posters around the school," said Brooks.
This year, NHS is teaming up with SCA to put on this event. Senior Kaley Tomlin is a member of SCA Executive Council.
"…I'd say that we are going to delegate tasks to everyone taking part in helping out to make sure everything runs smoothly. SCA is working behind the scenes to make sure every viewer, when the time comes, receives the best experience." said Tomlin. "…As a member of SCA and NHS, I am very excited about this upcoming event and cannot wait."
The Lip Sync Battle is on April 29, 2023 at 6 PM. You can sign up here from March 20-31.