Tyler, the Creator Gives his Most Polished Album Yet in "Flower Boy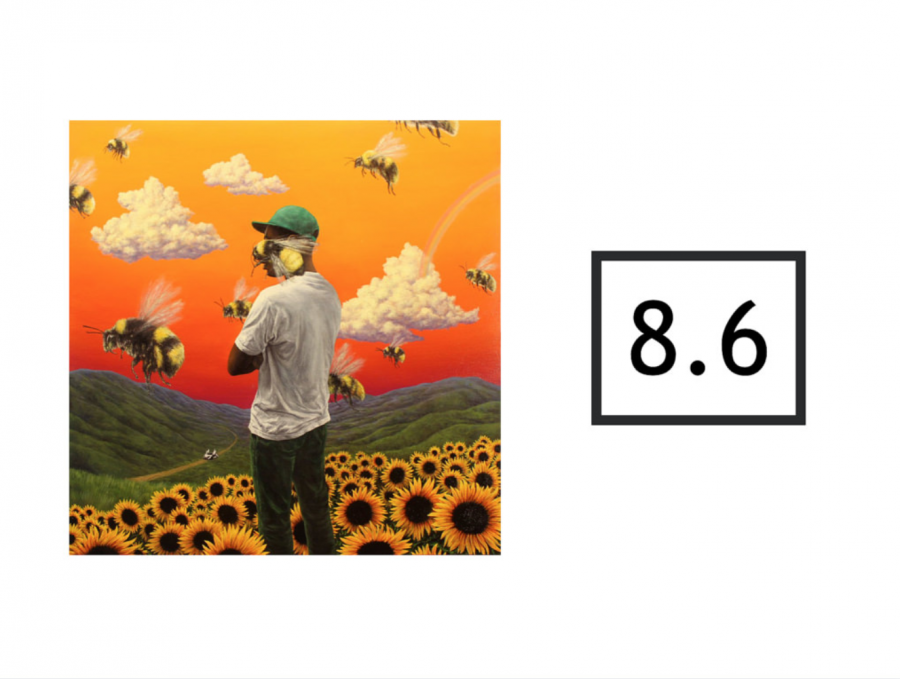 Known for his outlandish and eccentric personality, California rapper Tyler, the Creator's fourth studio album, "Flower Boy," is, without a doubt, his most sincere, heartfelt, matured, and polished album yet.
Up until the release of "Flower Boy," Tyler's music and character has been often characterized as youthful, abrasive, vulgar, ludicrous, and simply stupid. The obscene lyrics found in Tyler's most popular songs, such as "Yonkers" and "Smuckers," have caused him to be criticized by many as homophobic and misogynistic. His music is even banned from numerous countries, including Australia and the United Kingdom. However, "Flower Boy" marks a new beginning for Tyler and sheds light into Tyler's past life and vision for the future.
Although Tyler has been known for his clever word play, what really makes this album special upon first listen is the outstanding production. Smooth R&B and jazz instrumentals dominate most of the tracklist and are reminiscent of the music produced by fellow Odd Future member, Frank Ocean. After listening to the gloomy and introspective opening track, "Foreward," it is clear that Tyler is really trying to change his style as a rapper and artist.
Songs like "Boredom" and "911/ Mr. Lonely," open up a new and depressing side of Tyler, one in which he claims to be "the loneliest man alive" and addresses his problem with materialism. In "911/ Mr. Lonely," Tyler's fame has caused him to believe that he is like the police; He only receives calls from his friends when they have a problem and need guidance or assistance. As a result, Tyler has become increasingly materialistic in order to help combat his loneliness: "I know you are sick of me talking bout cars…that is the only thing keeping me company."
Minor themes like materialism and depression are definitely important to understand when analyzing "Flower Boy." Yet, the main subjects that Tyler addresses on his album are his conflicts with love and his own sexuality. The fourth song on the album and one of my personal favorites, "See You Again," describes Tyler's ideal lover that lives in his fantasy through warm and loving lyrics sung by singer Kali Uchis: "You live in my dream state…You exist behind my eyelids / I don't wanna wake up… Can I get a kiss? / And can you make it last forever? / I said I'm 'bout to go to war / I don't know if i'ma see you again."
Later songs then go on to directly talk about the idea that Tyler may be "coming out of the closet."  Lines like, "Truth is, since a youth kid, thought it was a phase / Thought it'd be like the phrase; poof, gone / But it's still goin' on" from the track "Garden Shed"  and "Next line will have 'em like woah / I've been kissing white boys since 2004" from the song "Ain't got time" directly support the claim that Tyler is a homosexual. When music critics and the media first heard these lines, they were quick to attack Tyler by calling him a hypocrite for some of his homophobic lines in past songs. Tyler ultimately responded by saying his sexuality is personal and does not care about what the media may criticize him as. Whatever the case may be, it is important to recognize Tyler's struggle with love and his sexuality when understanding his purpose behind creating "Flower Boy."
"Flower Boy" marks Tyler, the Creator's evolution as a new rapper. He uses an outstanding production of instrumentals and phenomenal features from Frank Ocean, Lil Wayne, and Kali Uchis, to explain his personal struggles and confessions. Tyler is aware of his past wrongdoings as a person and uses this album as a new beginning. While he may be undergoing a lot of personal struggles and obstacles, one line in the album acts as the thesis of the project and is essentially what Tyler wants the listener to walk away with, "Tell these black kids they could be whoever they are."