BROCKHAMPTON hops on the scene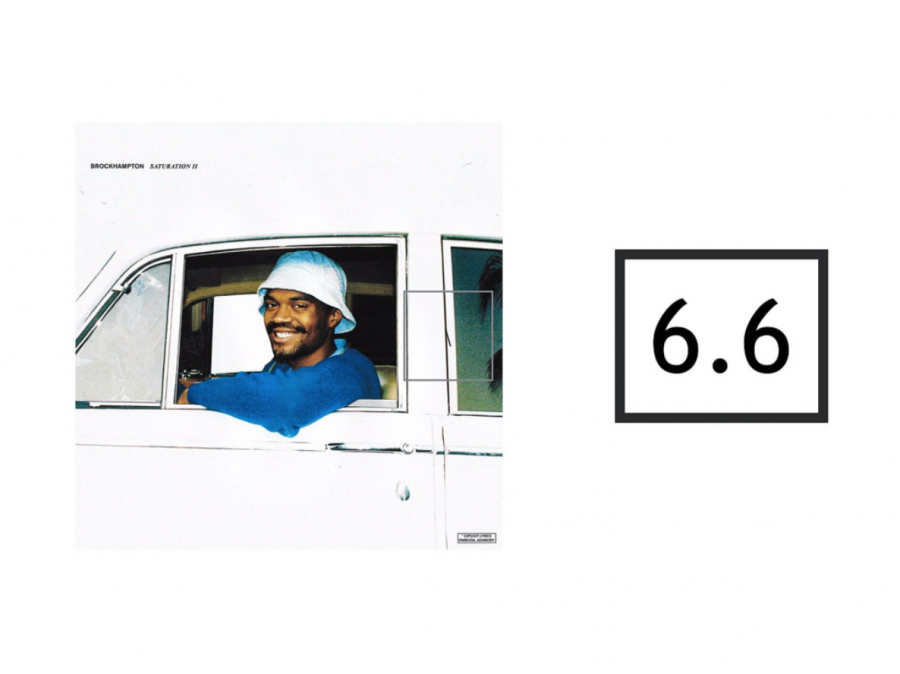 With the release of their critically acclaimed second studio album, "Saturation II," the self-proclaimed all-American boy band, Brockhampton, has forayed into hip-hop territory that was previously uncharted. Not only does the group combine a diverse group of black, white, hispanic, southeast Asian, and homosexual  rappers, but it also skillfully matches experimental music production with a surprisingly synchronized ensemble sound, despite its eight members.
Although the album certainly does contain some outliers, such as Scene I and Scene II,  the majority of its songs seem to follow a formula that I found at times to be redundant. The songs typically have an experimental beat that utilizes synthesizers in addition to drum kits, to produce high energy beats. This rhythm is accompanied by vivacious lyrics created by the group's vast collection of rappers. Additionally, most of the songs take advantage of the voice of Kevin Abstract, the group's most successful member, using his dynamic sing-song vocals to enhance song choruses.
In my opinion, many of the album's climaxes come as a result of the deep vocals from rapper, Ameer Vann, who makes his most impactful and memorable performance on "Gummy"– the album's leading single. Following a bridge by rapper Merlyn Wood, Vann enters in on emphatic fashion with witty lines such as, "God said let there be light, on the day I was born/ Step off the ship with the slaves, then I go hit the stage," and, "I gotta couple of warrants, so I'm leaving the state/ Now I'm in Cali today, with the sun on my face."
While Vann's deep voice appears to be his trademark, on songs like "Swamp," he displays his musical prowess through a persona that accentuates flow more than intensity. Instead of rapping in his typical deep voice, Vann uses a higher pitched voice, that allows for more choppy lyricism and appeals more to my ears.
The album even utilizes the bilingual abilities of Robert Ontenient, who sings two songs, "Scene I" and "Scene II", entirely in Spanish. These tracks seem to serve more as personal introspective monologues, since Ontenient reflects on his private relationships, such as the one he has with God.
I particularly enjoyed "Jesus," simply because of its piano-dominant production, which I enjoy on any hip-hop song."Jesus" presents the listener with a sort of soliloquy, that breaks up the intense hip-hop that prevails in most of the album.
One of the best songs on the album is a song entitled "Summer" a  beautifully executed departure from the hip-hop that encompasses most of the collection, featuring both vocals and production from Bearface, one of the group's members. The song invokes a nostalgic and romantic feeling, with piano chords and a guitar riff, reminiscent of Kanye West's "Gorgeous." This riff coincides with lyrics like, "In the heat of the summer/ You're so different from the rest/ You know, you know, you know." Even though the main focus of the album was supposed to be experimental hip-hop, I feel that "Summer" is the album's strongest point.
While the album contains no glaring issues, there are certain aspects  could certainly be improved upon for  future projects. On certain songs like "Swamp" and "Tokyo," Brockhampton's efforts to include each rapper in almost every song becomes somewhat confusing for the listener, since the melodies sound similar for multiple songs and blur the focus. Particularly in "Tokyo", I was essentially lost when I listened to the song for the first time. Although the strong synthesizers on the beat were powerful, the song's overloading of artists lessened its value, in my eyes. Additionally, the formulaic content of the album's lyrics and production can become repetitive, making it difficult to distinguish between different songs.
Ultimately, however, "Saturation II" represents a well advised step for an up-and-coming hip-hop group, combining a group with never before seen style, with never before seen diversity.