Let's Get Saucy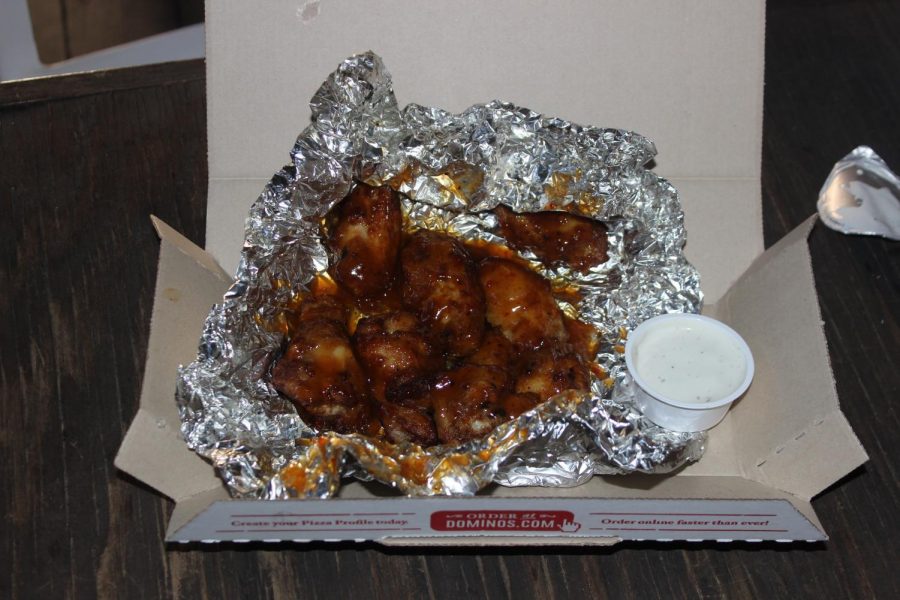 An undisputed staple of American cuisine is the chicken wing. Perfect for game day, a picnic with a significant other, or even funerals — the versatility of the wing is one of its greatest draws. Over the years, this saucy dish has become unanimous with Italian restaurants. The chances are that the next pizza place you visit will feature wings on the menu. I decided to test the merit of local Italian restaurant Naples Pizza, Pasta, and Subs against the corporate pizza giant, Domino's —  not by their pizza, but by their wings.
Naples is located in an unassuming strip mall.  Upon entering, the distinguishable fragrance of Italian food wrapped itself around me like an oversized down jacket. My peers and I approached the counter and were asked what we wanted. We responded as one unit: we would be having the wings, for it was Naples' wing night special (bottomless boneless wings for $9.90).
After seating ourselves at a solid and colorful booth that cradled our bodies like a slippery cocoon, it took about 15 minutes before our wings were brought to us. In the meantime, I drank in the casual atmosphere, noticing an abundance of local teens in the restaurant. The entire establishment echoed with a familiar ambience that heightened my enjoyment and anticipation.
At last, our waitress brought baskets of BBQ wings to the table. It was not my turn to eat yet (I had ordered Buffalo wings to begin with, while the majority of my pals had opted for the alternative BBQ) but I couldn't help noticing a particularly acrid odor coming from the sauce. It was incredibly powerful and I became distraught – will the wings be good? Is there too much sauce? Is the sauce even the problem?
My concerns were silenced when my food arrived minutes later. The morsels of meat glistened an alarming orange hue: comparable to the Valspar paint shade 'Monarch Wing.' Just as my doubts began to resurface, I caught the spicy, tangy, robust scent in my nose. The chicken was well prepared and white as snow. The sauce covering it was surprisingly creamy and complex. My little boy tongue is not able to withstand much spiciness, so the buffalo sauce was challenging, but the flavorful spices used were doing something right. I enjoyed every last drop of it.
My next basket of wings was BBQ, and I was pleased to discover that, despite its acerbic odor, the sauce was absolutely divine. I eventually became stuffed to the brim after 20 wings. One of my peers who had accompanied me, however, junior Brinson Mullis, happened to break the record for wings eaten in a night: 41. The owner took his picture and it is now hanging on the Naples wall.
Overall, Naples offered a spectacular wing experience for only about $10.00. I ate until I was full, I enjoyed both varieties of wings offered, and the atmosphere of the place had me feeling like I was right at home.
Domino's was a different experience entirely. My fingers quivered as I ordered eight wings via their attractively designed website. At the end of my order, I was informed that the employee named Rush was working hard on my food and that they would email me when the wings were ready. I hopped in my silver Passat with my mother (for I am merely 16 and one month, thus unable to drive by my lonesome) and whipped down to Domino's just as fast as I could. After struggling to park in a sloped lot downtown, I sprinted across the street and picked up the order. The wings came in a fun foldable box that was easy to grasp without danger of slipping. Once I had arrived at home, I flung my package open and beheld the contents. Eight thick chunks of boned bird meat smiled up at me, their curves twinkling through the glistening and translucent sauce. Speaking of the sauce, Rush had not been conservative when it came to the mango habanero — I let out a faint gasp as I beheld the considerable mess. Hesitant at first, I eventually came to the conclusion that the wings were only going to get eaten one way: sloppily. I submitted to my primal urges and lost myself in the meat. The sauce was spicy and sweet all at once, which was both complex and delightful. Every single one of my fingers was coated in hot sticky ecstasy. I did not care. My face became numb and I embraced the pain. Every bite brought me closer to nirvana. I was shameful about how much I enjoyed the ordeal. The chicken was cooked perfectly, peeling off the bone with the slightest tug of my teeth. The sauce, which drenched every inch of my mouth within moments, made me feel joy unlike any I have felt before. When it was all over, I looked at the chaos that I had created. Napkins covered the counter and the box was in shambles. My wild passion was over as soon as it began and I found that the wings were not exactly as filling as a food should be.
In conclusion, the two orders of wings that I purchased during wing week were very special in their own ways. I would suggest Naples to a family, couple, or group of friends who want a night out with some good food at a good price. I have no real complaints about my experience there. Domino's, on the other hand, has clearly perfected the wing formula. Specially prepared chicken, exotic sauce, and a professional presentation resulted in a truly divine chicken experience. Though the food was superb, I walked away from the meal feeling lonely, ashamed, and a little empty. Really, the title of the best wings in Lexington comes down to the ambiance and style the audience is going for.