Midnights Album Review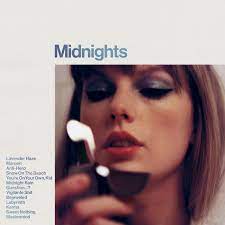 On Oct. 21, 2022, Taylor Swift released her newest studio album, Midnights. This was her newest album since Nov. 12, 2021, the release of Red (Taylor's Version) From The Vault. This album had been highly anticipated by her adoring fans since she announced the album drop over the past summer. 
After my first listen of the total 13 tracks on the album, I unfortunately had negative opinions. I have always been a fan of Swift's slower music much like Folklore and Evermore. Midnights however, was very pop centric.
I have never been a fan of pop music so I might be biased, but I would never see myself listening to the majority of songs on the album in my own time. 
My biggest critic for this album is the lyrics. "When I walk in the room I can still make the whole place shimmer." is a verse from track 9 "Bejeweled", "Bejeweled" is my least favorite song on the album solely because of this lyric. Taylor Swift is most known for her talent for song writing, and this lyric set the overall vibe for a corny, rushed song. 
However, the album did have some strong songs. I really enjoyed "Sweet Nothings" and "Question…?" These best resemble her older music and are the best written, lyric wise.  
Though many fans have stated that they enjoyed the album, I know I am not the only one who was disappointed. Many people on social media have criticized the new album for different reasons. Some people believe that the album was too rushed and the lyrics were not well thought out. I have also discussed the album with many of my peers and teachers and they also have negative opinions. 
I believe those who genuinely enjoy this album like pop music or they are big Taylor Swift fans and will listen to anything she releases. 
Overall, this album was not for me which is disappointing because I have never not enjoyed a Taylor Swift album. The music is not my style but I can see how others could potentially enjoy some of the songs on the album. 
My hope for the future is that when Taylor Swift writes her next album, she will spend more time focusing on lyrics rather than beats and that she takes more inspiration from her older albums.