Super Bowl Champion Joins SVU Football Staff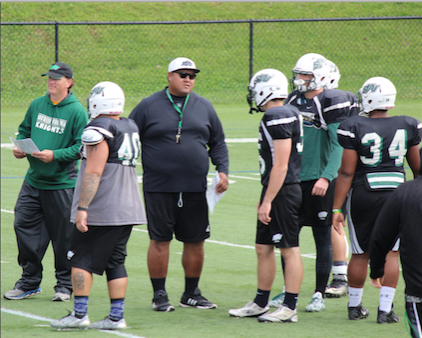 After nearly ten years of playing in the highest level of football, the National Football League (NFL), Edwin Mulitalo turned his sights on coaching. This past February, Southern Virginia University hired Mulitalo as a defensive line coach for the football team.
"I knew that I wanted to be involved in football someway, whether it's coaching or scouting in the NFL, and so I started coaching last year," said Mulitalo.
Mulitalo, a former Super Bowl champion with the Baltimore Ravens, contributed to Southern Utah University's Big Sky Championship run prior to being added as a coach at SVU.
"I volunteered at Southern Utah University, which is a 1-AA school in Cedar City," said Mulitalo. "I coached there and we won the Big Sky Conference. I got another ring, so it was just the starting of my career. After I volunteered one year, a full-time coaching job was available and this opportunity came up."
Born in California, Mulitalo played college football for the University of Arizona before being drafted in the fourth round of the NFL draft by the Baltimore Ravens.
"A lot of kids in the states, that's their dream [to play in the NFL]," said Mulitalo. "Whoever has picked up a football, you always say, 'I want to play in the NFL,' so the experience for me in the NFL was neat and created a lot of memories and great friendships. But most of all, it was being able to play football at the highest level, so the achievement of goals basically."
In his second year in the NFL, Mulitalo was starting at left guard in Super Bowl XXXV, as he and the Baltimore Ravens took on the New York Giants. Mulitalo helped pave the way for the Ravens run game, helping Baltimore to defeat the Giants, 34-7.
"We won the Super Bowl in 2000. That was my second year in the NFL, and that was probably one of the best moments. If, for one time, and just for a little bit, if we're the champions of the world and we're the football team of the world, then that meant that I was the best left guard in the world for just that moment, so that was awesome," said Mulitalo.
Mulitalo played for the Ravens until he was released in 2006, soon after he was signed by the Detroit Lions, with whom he played for until 2009. Playing against men of similar stature to Mulitalo's 6-3 and 345-pound body did not come without its toll.
"You look at me and I'm pretty big, so you think about these big grown men," said Mulitalo. "Like right now we just see boys, like high school football, those are boys. Just imagine grown men like me flying around, running as fast as you can, hit you. The games are on Sunday, so sometimes on Monday, I felt like I was in a car accident and I was like, 'geez why am I doing this.' In the end, it's the sport that we love. That would be the biggest difference, guys are bigger, stronger, faster, and so the hits hurt just a little bit more."
Mulitalo, now 42 years old, officially retired from the NFL in 2010 after being released from the Lions following the 2008 season.
"It's different. When I first retired in 2010, it was tough. The first year was tough, but I understand that this game is for young guys and I got old," said Mulitalo. "People say, 'you're not old,' and no, in NFL years, I'm old. It's like dog years."
Retirement from the NFL has grown on Mulitalo, who still feels a similar excitement and rush of adrenaline before games as a coach as he did during his playing career.
"The excitement that we get for the night before the game, and the pregame things and during the game, it's a different type because I'm not beating up my body, but the excitement is still there," said Mulitalo. "I still get the butterflies. Those kinds of things I get from football and that kind of does the fix for my football addiction."
Mulitalo said he hopes to one day be able to coach at his alma mater, the University of Arizona, but for now he is focusing on coaching SVU's defensive line and helping the football team improve.
"I want to coach football and I enjoy being around these young men. They make me feel young," said Mulitalo. "Long term [goals] would be to coach as long as I can here and make it a better football program and football experience for the other kids than it was when I first got here."
Although Rockbridge is far from the city life Mulitalo experienced throughout his playing career, he has grown to enjoy the small town feel. Mulitalo enjoys the food in Buena Vista and Lexington, citing JJ's Meat Shak and Don Tequila's as two of his favorite local restaurants.   
"It's been interesting," said Mulitalo. "I actually love it since I played for Baltimore and so I lived in Maryland for nine years, played in Baltimore for eight, and played in Detroit for two, so living in Maryland, I got used to it, and I called that home. Maryland and Western Maryland is a lot like here and obviously Buena Vista is a small town and Lexington. I love Lexington and I love Buena Vista too."
While in Rockbridge, Mulitalo has remained connected with the Baltimore Ravens organization as well.
"I've done a lot of the things for the Ravens, doing autograph signings and appearances, so I feel like I've come home," said Mulitalo.
Mulitalo's daughter, Lima Mulitalo, is a sophomore at Rockbridge. As the daughter of an NFL player, it at first seemed normal to Lima to have a father play football for a living.
"It was normal to me because I thought it was just a normal job when I was younger and so it wasn't until I was older when I realized not everyone has a father that's in the NFL, and that's when it became kind of cool," said Lima.
For Lima, her favorite memories of her father playing in the NFL were meeting and seeing him after the game.
"My favorite memory is him after the game. He'd come up right after and he'd be all sweaty and hurt and that was the best," said Lima. "I'd be like 'oh my goodness! Dad, you're alive!' That was the best part."