Socially-Distanced Swimming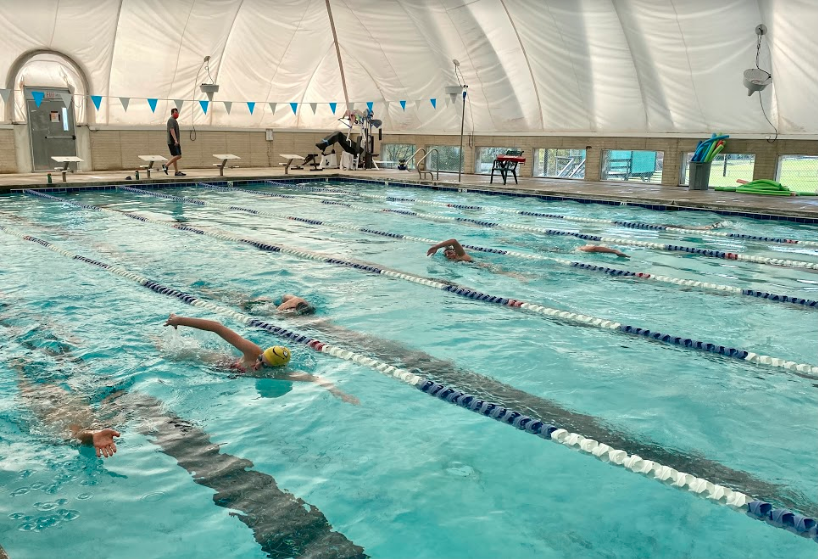 Despite the challenges that COVID-19 has thrown at student athletes, the RCHS swimmers have dove over those obstacles and are ready for a sensational season. The "Friends Of Rockbridge" at the Lexington Municipal Pool have continued to have a recreational team called The STORM for preseason swimming that many high school swimmers have taken advantage of. Led by coach Morgan Richter, The STORM has gotten RCHS students away from the computer screen and into the pool. Richter and the team follow the safety measures and COVID-19 precautions.
"Before entering each day, we take each swimmer's temperature, and we position them so that one swimmer is at the end of each lane to ensure that everyone is staying six feet apart," said Richter. "We stay away from sets such as relays that would force swimmers to be close together."
The swimmers are thankful for the outlet it provides, and it gives them a chance to unwind and clear their heads. Junior Susanne Mayock-Bradley feels swimming has given her opportunities to unwind during virtual school. 
"Swimming has been a great way to end a busy school day, and it gives me a reason to see my friends while staying active at the same time," said Mayock-Bradley.
Not only are these practices outlets for a mental break, but they are a great way to condition and prepare for the regular season. The practices are meticulously planned to target one aspect of a swimmer's stroke or form.
"I want to make it to states in my breaststroke event, so I am making that stroke my focus during these practices," said Mayock-Bradley.
Sophomore Ali Pfaff explains how these socially-distanced practices have encouraged growth within the team.
"Since we haven't been able to compete against other teams, we have simulated competition in our own team," said Pfaff. "This has allowed us to grow mentally, and it allows us to encourage each other and build our team spirit. These practices have made me excited for the regular season."