The 2021 NFL Top 100 Recap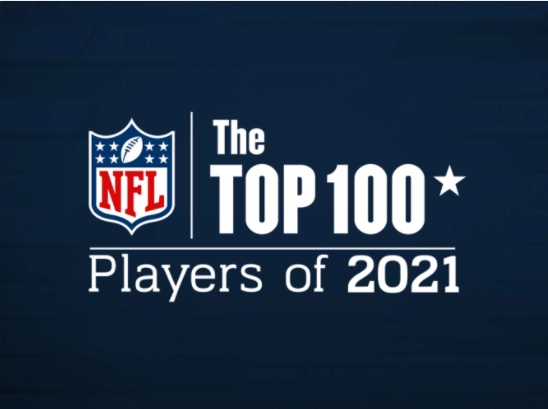 Every single year, football fans all over look forward to seeing their favorite teams play. Not only do they look forward to that, they also look forward to the NFL Top 100 list. It is the best of the best, the most elite players all put onto a list based on how well they have played the previous season. This year, some of the athletes on the list were shocking. Some of the rankings were not a surprise at all such as Patrick Mahomes being the number one spot holder, but others like Aaron Rodgers being the third spot instead of the top two were not expected. 
Mahomes is the quarterback for the Kansas City Chiefs and has been playing for five years in the NFL. In the 2020 season he threw 4,740 yards in total, threw 38 touchdowns, and had 390 complete plays. There is no surprise that he was made the top NFL player. 
Taking the number two spot was defensive tackle Aaron Donald.  In his seven years playing professional football, Donald has spent all of his time with the Los Angeles Rams. In the last season, Donald had 98 pressures and is now known  as being unstoppable when it comes to his defensive skills. In his whole career he has 85 sacks. Based on his skill and performance, Donald will most likely go down in history as the best defensive NFL player.
Rounding off the top three is the Green Bay Packers quarterback Aaron Rodgers. He has been playing with the Packers since 2005. Rodgers holds a career record with a 103.1 passing rate. Rodgers threw 4,299 yards this past season and threw 48 touchdowns while his career high was 4,643 yards thrown in 2011. 
Many people believed that Rodgers would beat out Mahomes in the top three based solely on the statistics. No one can get the inside scoop and figure out exactly why Mahomes beat Rodgers, they can only go off what they know and what is public. 
Sophomore Halina Homaik has followed the NFL for a long time and was very excited when the list was released. 
"Obviously no one was shocked about Mahomes. I thought Aaron Rodgers was going to be number two but I'm not familiar with Aaron Donald. I just liked going through the list and seeing my favorite players in their spots." 
With the 2021 season just around the corner, it will be exciting to see the top 100 players in action as fall football returns.