Fort Defiance "Spikes" Girls Volleyball into the Ground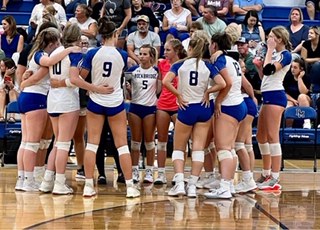 On Sept. 13, 2022, RCHS Girls Varsity Volleyball fell to Fort Defiance, with the final score totaling out to 1 to 3. Currently, the team record stands at 4-2-0. 
Freshman Right Setter and Middle Hitter Mackenzie McCormick shares her thoughts on the volleyball team's performance against Fort Defiance. 
"I think that when we all are encouraging and lift each other up, even when we mess up, it is very helpful," said McCormick. 
McCormick continued by saying, "The girls [on this team] mean the absolute world to me and I always want to see them happy. [I] love them and cannot wait [for] the rest of the season with them," said McCormick. 
The RCHS Girls Varsity Volleyball team is set to next play off against the Spotswood volleyball team at Spotswood High School on Sept. 19 at 5:30 p.m. Interested fans can view the volleyball team's upcoming game schedule here.