Competitive Cheerleaders Tumble Into A Victory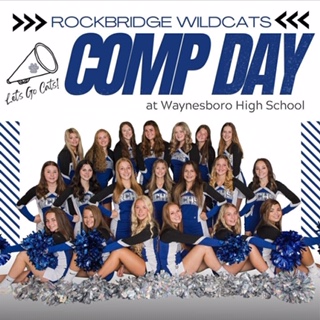 On Thursday, Oct. 13, RCHS' competition cheerleading team traveled to Harrisonburg High School to compete in the second round of District competition. In addition, highlights of the competition included four RCHS competitive cheerleaders making the 1st and 2nd teams. These cheerleaders include: Addy Clark winning 1st team, and Abby Whitesell, Baileigh Ramsey, and Abre Smith winning 2nd team. 
Senior Abby Whitesell shares her thoughts on winning 2nd team in competitive cheerleading.
"The best part of the [competition] was getting to show the judges a routine that I felt confident in with a team I was proud to be a part of," said Whitesell. 
Whitesell continues, "[I am] honored to be recognized, but [I] feel like I should not be in the spotlight without my girls right there with me," said Whitesell. "I am a strong believer that I would not be where I am today without my amazing teammates and coaches that I was lucky enough to work with this season," 
Junior Abre Smith shares her thoughts on competing in the second round of District competitions.
"The best part of [the competition] was being with my team, especially the seniors," said Smith. "This cheer season we have spent so much time boding and I love getting able to share time with the seniors knowing that it is their last time cheering for a high school competition team," 
Though the competitive cheerleading team has wrapped up their competitive season, you can still catch them cheering at the remaining home football games. For a closer look at past scores and upcoming events, you can visit here.