Top Winter Sports Moments of 2023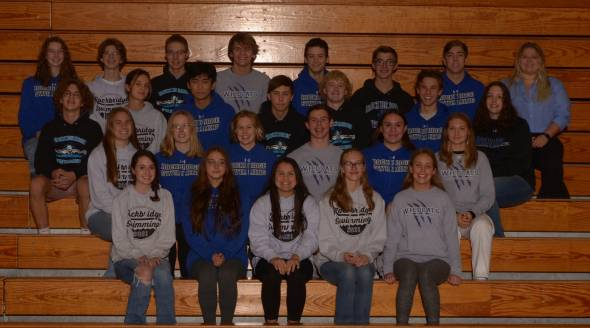 Rockbridge County High School is home to many talented athletes. Winter athletics include  Wrestling, Swim, Indoor Track, and Basketball. All of these teams are stacked to the brim with accomplished individuals that have each brought home a little bit of victory to the RCHS name. While it's impossible to cover every moment of this past season, we can certainly highlight the top ones of each sport. 
Our wrestling team this year, revamped with new participants and attitudes, has held a record of 2-0-0. This team consists of 21 boys and 2 lady wildcats. While this team is currently thriving off of their well-deserved winning high, junior Ryan Maxwell describes their best moment of the season. 
"Our best moment as a team was the Titan Tough Man Tournament. This was our best moment because the comradery was high. It was awesome to watch the new guys wrestle for their first real match that mattered. It was also the best moment for the experienced guys because it gave us a chance to get our feet back under us and get ready for a new season. As a team we placed high and we weren't expecting that," said Maxwell. 
Likewise, Swim for boys and girls has been doing notably well this season. Sophomore Addy Elliot, and freshman Keagan Black describe their experience this year and the best moment their teams have had. 
"I think one of the best moments of the season was when I improved on my main event by almost a minute quicker than from my first meet. Districts was also a really fun bonding experience for us as well," said Elliot. 
"The best moment our team has had this year was winning districts," said Black. 
Indoor track for boys and girls has also done incredibly well. Junior Jordan Imler describes what he believes to be their best moment so far. 
"I wouldn't say that there is one best moment in Track since there are so many different events going on. However, at our January 7th meet, we had 20 people set new personal records in a wide range of events. Which as a team would probably be the best moment of the season since we got to see how much we've improved as a team," said Imler. 
Lastly, our Wildcat basketball team has also put up a tough fight this season, with the boys having a record of 9-11 and our girls coming up behind with a record of 2-18. Despite a bumpy season, they've had many "best moments". Senior Daronde Stores and sophomore Parker Dameron both progressed greatly on their teams and made RCHS proud. 
All of our Wildcats have worked so hard to achieve these "best moments." We wish them the best of luck as they finish off their seasons. To follow their progress or attend their next meets visit https://rockbridgeathletics.com/page/2931.