March Madness Takes over Sports World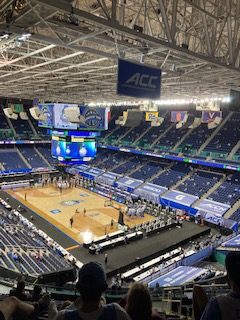 Every March, one of the most anticipated sporting events of the year takes place: The NCAA Basketball Tournament, more commonly known as March Madness. 68 teams are selected to participate. 32 of these teams receive an automatic bid as a result of winning their conference tournament. 36 other teams receive an at-large bid based upon results from their season. These teams are split into seeds from one through 16 seeds based on their regular season. Following the First Four, the teams are split into four regions: East, Midwest, South, and West. These teams battle it out in order to represent their region in Houston at the Final Four.
March Madness shows the different strategies that teams use to find success throughout the year. Some teams specialize in shooting. For example, Xavier has the third-highest shooting percentage out of 363 teams in the country. They have already advanced to the Sweet Sixteen. Other teams specialize in rebounding. University of Connecticut has the second-highest rebounding margin out of 363 teams. They have exploited this advantage over other teams, as they have already won two games in the tournament. Finally, some teams use intense defensive pressure. Tennessee is known for its swarming defense, and it carried them to a huge win over a hot Duke team in the second round. 
Junior Jackson White explained why he thinks that Tennessee is well-positioned for a deep run.
"Tennessee has not gotten as much national attention since their losing streak in January, but the defense seems to be giving other teams problems," said White.
Upsets are always one of the biggest stories of March Madness. This year has been no different as a 16 seed defeated a one seed for only the second time in history. Fairleigh Dickinson University defeated Purdue 63-58 in the first round. 15 seeded Princeton has also advanced to the Sweet Sixteen behind strong wins against Arizona and Missouri.
Senior Blair Scott was surprised to see these upsets. 
"All of these upsets have shown what is so good about March Madness," said Scott. 
The 2023 edition of March Madness has not disappointed. New stars such as Florida Atlantic's Johnell Davis and Arkansas's Davonte Davis have emerged along with staples like Gonzaga's Drew Timme. Tune into CBS Networks to watch the rest of the tournament.