Jonathan Issac Stands for What What He Believes In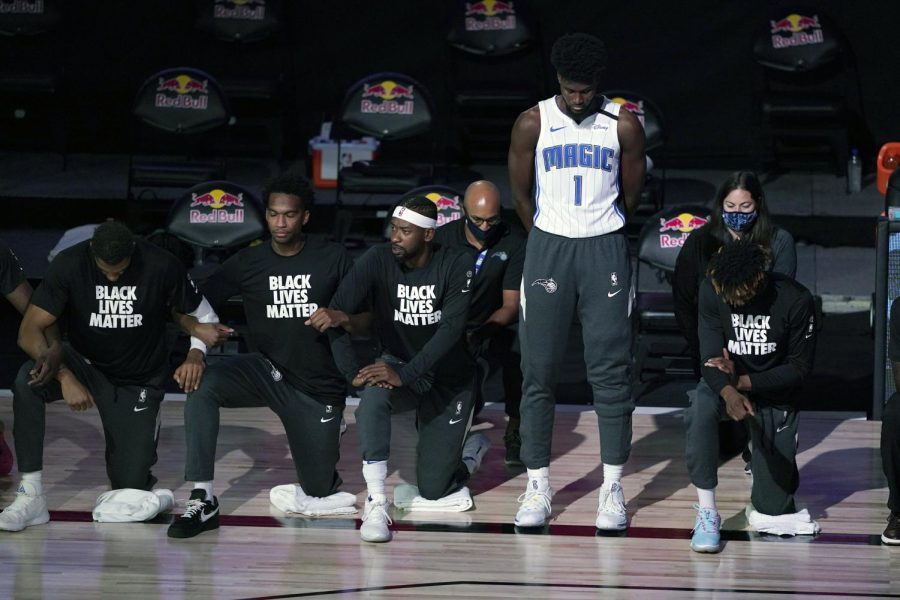 While the National Basketball Association (NBA) Finals may be over, one Orlando Magic player, Jonathan Isaac, has continued to be the talk of the media. Last season, the NBA went through a number of changes to accommodate the requests of players who wanted to use the basketball court as a platform for social justice. Players accomplished their goals by wearing Black Lives Matter (BLM) apparel, kneeling during the national anthem, and skipping playoff games. Jonathan Issac stuck out among his teammates and the entire league as he did not participate in this movement.  During the anthem, he did  not wear BLM apparel or kneel down. In a later interview with ESPN, a reporter asked Isaac whether or not he believed that Black lives matter. Isaac said that he did "…believe Black lives matter." He said that "a lot went into [his] decision and part of it…[was his] thought that kneeling or wearing a Black Lives Matter t-shirt don't go hand in hand with supporting the Black lives" ESPN (2020). 
Issac then went on to detail what he thinks supports not just Black lives, but all lives. He said that "[for him] Black lives are supported through the gospel. All lives are supported through the gospel," ESPN (2020).
The reasoning behind Isaac's comment stating that "all lives are supported through the gospel" stems from another belief of his that "everyone is made in the image of God and [that] we all fall short of God's glory. Each and everyone of us, each and every day, do things that we shouldn't do一say things we shouldn't say and… hate and dislike people we shouldn't hate and dislike." ESPN (2020). 
Isaac's comments during his interview with ESPN received an array of different responses. Some were confused by Isaac's point of view and criticized it. Atlantic sports journalist Jemele Hill commented on Twitter, "He has every right not to kneel or join the protest, but his answer literally didn't make any sense. Black Lives Matter is a human rights campaign, so how would fighting for equality contradict Jesus?" said Hill. 
Others were more understanding of Isaac's decision. According to Federalist journalist Thomas Griffin, "Isaac is a great example of what our country needs most at these cultural crossroads. He calls us to go beyond race, anger, frustration, and slogans and reside on the foundation of immovable truth," said Griffin. "Faith in God is unshakable, and it leads humanity to reorient itself toward the good for all."
Jonathan Isaac has used his NBA platform to promote the same strive for equality shared by his teammates and league, but he has used his faith to do it in a different way. Isaac stands for the idea that all injustice is equal before the eyes of God and it will take all people turning to God to overcome racial, as well as other social, issues within our country. Isaac will be returning to the NBA for the 2021 season where he will continue to adhere to his morals and provide an alternate means of reaching social justice.