Coronavirus Changes to Rockbridge County Festivities
During the typical winter  sea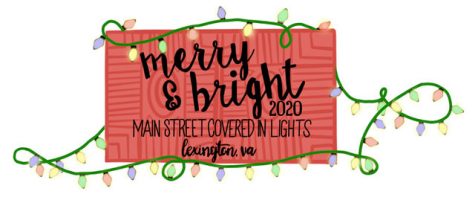 son, Lexington, Va. has a series of events for the holidays. Typically, these consist of two runs, a candlelight processional, a Christmas tree lighting, and a Christmas Parade. However, due to the coronavirus pandemic, the city has opted to change these events to fit the circumstances.
Firstly, the Gobble Wobble Run, taking place on Thanksgiving day, Thursday, Nov. 26,  at 9:00 a.m., will be held virtually or in person. The runners will be able to choose how they participate in the race.  This may sound like not much has changed, however, there will be no post-race activities, award ceremonies, or kids fun run. The Jingle Bell Run will be held virtually on Dec. 5. More detail will be coming on the Main Street Lexington Website as well as the Visit Lexington, VA website.
Following the holiday runs, the Natural Bridge State Park is joining in on the holiday festivities by hosting the Festival of the Trees and a wintery walk through the park called Luminary Lights. The Festival of the Tree will take place on Dec. 1 through Dec. 13 from 9:00 a.m. to 5:00 p.m.. Here, people will be able to walk through a forest of trees decorated for the holidays where they will then be able to "vote" on their favorite tree by placing school supplies at the base of it. All of the proceeds and supplies will benefit Project Horizon in Rockbridge County, Va.. Natural Bridge State Park is also hosting Luminary Lights, where guests will be able to walk through the State Park on Dec. 11 through Dec.13, and then again on Dec. 18 through Dec.20 from 5:00 p.m. to 9:00 p.m.. Guests will be able to walk along Cedar Creek and underneath the Natural Bridge or reserve a horse-drawn carriage ride through the park.
Both Buena Vista and Lexington will hold Christmas parades this year. Buena Vista will have a traditional parade on Dec. 3 beginning at 7:00 p.m. that requires masks, social distancing, and no throwing of candy. Lexington will have a "reverse parade" on Dec. 4 beginning at 6:00 p.m.. In this "reverse parade," the floats will be parked on Main Street, while participants will slowly drive by admiring the floats. Additionally, Lexington, Va. will be having a virtual Tree Lighting Ceremony, where Mr. and Mrs. Claus will ride down Main Street in a horse-drawn carriage and light the tree at Hopkins Green. This event will be livestreamed on the City of Lexington's FaceBook on Nov. 27 from 5:30 p.m. to 7:30 p.m.
Although the pandemic has forced many to be apart in this holiday season, the inhabitants of Rockbridge County, Va. are working to provide new ways to celebrate the Holiday season. For more information, go to the City of Lexington website or