Students Plan for Homecoming Week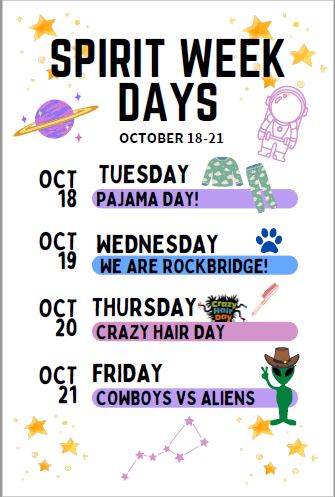 The 2022 Homecoming will be on Oct. 22 from 7:00 p.m. to 10:00 p.m.. The 2022 Homecoming theme is intergalactic.
Since Oct. 17 is a teacher work day, there will only be four spirit days. Oct. 18 is Pajama Day, Oct. 19 is We Are Rockbridge Day (school spirit), Oct. 20 is Crazy Hair Day, and Oct. 21 is Cowboys vs Aliens. Students will be able to earn points for their grade to earn the spirit stick during the spirit week by participating. Students can also earn points for their grade by bringing in items such as cleaning supplies, personal hygiene products, and paper products for the Project Horizon Drive.
This year's girl's flag football game between the juniors and the seniors is called Thompson's Turf War in honor of Sandra Thompson, a late Government teacher at RCHS. The dedication begins at 6:00 p.m. on Oct. 20 and the game will follow right after the dedication. In addition, there will be a bonfire after the turf war to honor Thompson's love of bringing people together. The proceeds from this dedication game will go to funding a scholarship in Thompson's name.
The night following Thompson's Turf War, Oct. 21, is the annual homecoming football game. The Varsity football team will be playing against Broadway at 7:00 p.m..
This year's homecoming court for freshmen are Grayden Brown and Hayley Higgins. Sophomore court is Luke Eversole and Sarah Brown. Junior court is Haedyn Hartless and Malia Fitz. Lastly, the boys senior royalty is Paden Hines, Maxwell Johnson, Landon Joines, Terry Netusil, and Garrett Stillwell. Girl senior royalty is Emma Brooke, Abigail Brooks, Kelsie Caldwell, McKenzie Hines, and Anna Rhodenizer. For more information, email Jessika Crance.