Cracker Barrel is "Barrely" Worth Your Time
A satirical review of an American institution.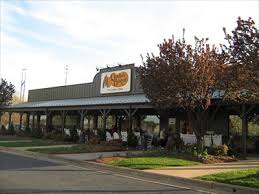 After a recent trip to Cracker Barrel, I can say with confidence that their food is not worth your time or money—that is, unless you like your biscuits as dry as sandpaper and your hash browns as cold as ice. There are a few things you must understand before you continue. I am a culinary aficionado, and I have the credentials to prove it. I am the creator of ramen noodle french toast, deep fried garlicky pasta balls, and the Big Mac. Well, actually, that last one was Ronald McDonald, but if I were 65 years older, I would have beat him to it! So, in the words of all of my "Food Reviewer Forefathers" before me, "enjoy!"
There are a plethora of restaurants across the United States of America that are slinging eggs, bacon, and biscuits, but none of them do it worse than Cracker Barrel. Cracker Barrel was established in 1969 and has since been famous for their "all you can eat biscuits," old country store, and table games.  
My culinary disdain with the Cracker Barrel started about nine years ago. When I walked into my first Cracker Barrel, I was immediately confused by the atmosphere. Was it a store? Was it a restaurant? Was it Wild West or 1940s themed? 
On top of my confusion, I was also taken back by the wait time for a table. The wait was almost an hour, but there were plenty of empty tables. My theory was that Cracker Barrel purposefully made waiting times long for customers so that they would grow impatient and spend money on the overpriced country store goods. Once I was finally seated, I ordered "Momma's Pancake Breakfast." The dish was nothing special, containing only three pancakes and bacon. The pancakes tasted like the atmosphere of Cracker Barrel— old and dusty. The bacon was average in terms of its flavor, overcooked, and definitely not thick like it was advertised to be.
Despite an unbearably long wait time and a mediocre meal, I made it a goal to give Cracker Barrel another try. Well, it was not by choice, but nonetheless, I gave them a second chance. One week ago me, my father and my grandpa decided that we were going to treat ourselves to a hearty breakfast in Staunton, VA. The day was rainy, and we were headed straight for a Waffle House. My heartrate escalated in excitement. Then, my father took a fatal detour, making a sharp left and leaving the Waffle House behind. Execution drums started to play in my head as we pulled up to  Cracker Barrel. Bum. Bum. Bum. Ba, ba, bum. Deep down,  I knew that I had to go back, for this would be the time that I would settle the score with the evil Cracker Barrel.
I walked into the old country store and an icy breeze penetrated my skin like an arrow does soft flesh. The building looked just as confusing as when I had left it. The front hostess said the wait would be at least forty minutes, condemning my family to look around at overpriced Christmas gifts, dated candy, and worst of all, clothes. After forty minutes of torment, the hostess notified my party that our table was ready.  
I sat down at a table that was still sticky from the previous guests pancake syrup. Musty biscuit crumbs clinged on to the syrupy table, refusing to be swept away by my one and only napkin. 
The waitress assigned to our table took our drink order of two waters and a coffee. The coffee came back to the table hot, but it seemed to taste as if it had been filtered through an old gym sock. Disgusted, I let the coffee trickle from my mouth and watched as the vile liquid refilled my cup. 
I gathered all of my perseverance and pushed on to order my main course. The opponent I had selected was the infamous "Bacon N' Egg Hash Brown Casserole." My decision to choose this menu item stemmed from two factors. One factor was the waitress who assured me that the casserole was one of the best things on their menu. The second factor was a Reddit page I had found while I was waiting in the old country store. 
Time passed and, like a Trojan Horse, the meal finally arrived at the table ready to destroy my taste buds and dismantle any chances I had at a satisfactory experience. From  first glance, the Bacon N' Egg Hash Brown Casserole appeared as if it was plated by a blind man. I bit into the sloppy looking casserole and was immediately let down. The eggs in my dish were missing, but I am not sure that they would have made things any better. The bacon, black as night, was again overcooked to a burnt crisp. The hash browns that were so widely revered for their authenticity and classic flavor were worse than a box of expired au gratin potatoes. On top of the bacon and potatoes lay a web of fried onions. While the onions were visible, I could not detect their flavor due to the considerable amount of flour coating that clung onto their exterior. 
In addition, the casserole also had ample amounts of low quality cheddar cheese making it even more challenging to finish my breakfast. I know this because my dish was not hot when it came out and, when I tried to cut my cheese, it was very waxy in texture. This tells me that the product never fully melted in the first place and, when cheese does not melt, that means it is either less than 50% real cheese content or  it has been processed with artificial ingredients. 
The Bacon N' Egg Hashbrown Casserole was one of the most awful menu items I have ever tasted in my life. I chased this meal down my throat with some biscuits, only to realize how stale the biscuits were. Feeling the need to add some moisture to my mouth, I turned to a plate of syrup covered pancakes. The pancakes did live up to the name "pan cake," but not for the right reasons. The pancakes literally tasted like a pan (probably the result of using aluminum-based baking powder). I do not know if Cracker Barrel is just cheap with their ingredients or if their pancakes are seriously that bad, but no matter the answer, it is unacceptable to serve food like that to customers.  
Having tried everything on my table, I can say with certainty that nothing at Cracker Barrel is enjoyable. The food is old, cold, and tasteless. Their old country store is no more than an elaborate corporate ruse to get your money and make you feel like you are partaking in a one-of-a-kind experience. Cracker Barrel is a plethora of deceit and disappointment.    
Now, I am a believer in giving credit where it is due. I appreciate the fact that Cracker Barrel provided real menus, as not many other places have decided not to do so during the COVID-19 pandemic. The waitress was very kind and that sure means a lot. When I told her how terrible the coffee was, she promptly brewed me a new cup. However, those positive aspects are not enough for me to overlook all of the offenses carried out by Cracker Barrel. 
Cracker Barrel is not a great American breakfast establishment, and it in no way shape or form comes close to the quality, service, or atmosphere of joints like Waffle House, Dennys, and IHOP.  I would not recommend eating at Cracker Barrel unless you like your food to taste cold, bland, and like it has been sitting at the bottom of a dusty barrel inhabited by a raccoon.