"Shadow and Bone" Unfolds New Plot On Netflix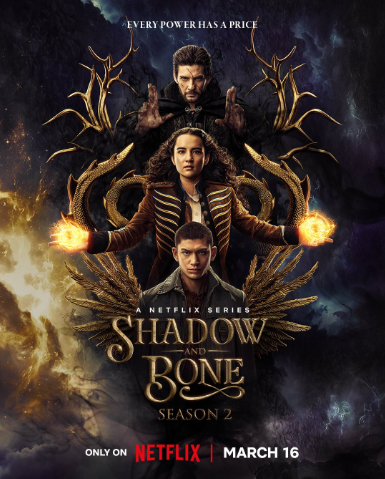 Based on the final two books of the "Shadow and Bone" trilogy, the "Six of Crows" duology, and the "King of Scars" duology, the Netflix Original series, "Shadow and Bone" came out with a second season on March 16. In order to fit a trilogy and two duologies worth of story into eight episodes, season two of "Shadow and Bone" took a few turns away from the original plotline of the books. From this point on, there will be spoilers from the show.
At the beginning of the season, it felt as if the story was slightly rushed because of the writers trying to fit in as much as they could from the books. Aside from a few differences, the end of season two marks the beginning of the story for the crows, and the beginning of the "King of Scars" duology for King Nikolai. 
The only series that was included into the show that finished the original plotline of the books was "Shadow and Bone," which features Alina and Mal. Though they finished the original plotline in the books, Alina and Mal's story appears to be far from over in the show.
Most of the changes in plot from the book to the show happen with the "Shadow and Bone" trilogy. There were quite a few things that were changed or even left out in the show from Alina's previously set story. 
For example, Alina and Nikolai getting married at the end of the season, as well as Alina being able to summon shadows, were a couple of the biggest changes. In the very last scene of the finale episode, the wedding between Alina and Nikolai went awry, and Alina made a face that appeared to be one of evil intent. In the books, Alina had created more sun summoners and faked her own death, so this was a very different change in the plot. 
Since the show ties three book series together that were not originally tied together, the writers had to make it to where the characters had a reason to clash their stories together.
Going into the second season, I was not expecting a third season. With the ending of the second season and so many possibilities being alive for the characters, I would not be surprised if the show was renewed for a third season. To read my review on the first season of "Shadow and Bone," visit the Prowler Website.