A Day in the Life of a Student Athlete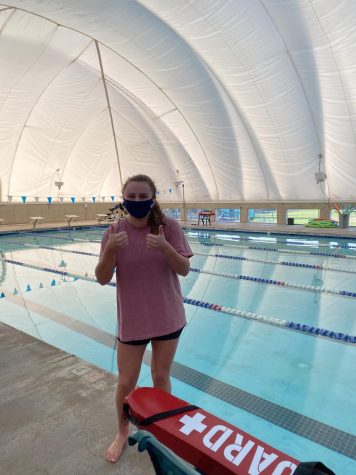 This year has certainly been one for the books due to the coronavirus pandemic, the changing online school environment, and adjusted sports practices and conditionings for students and coaches alike. Although practices are limited to a certain number of players they can have, competitions have been canceled or postponed, and the sense of team comradery has been dampened by facemasks and social distancing. Junior Susanne Mayock-Bradley has been affected by these new regulations  both on the swim and lacrosse team, as well as in school. 
Beginning her day at 8:00 a.m. or 8:30 a.m., Mayock-Bradley quickly begins her school work. Being a junior in a virtual school environment, Mayock-Bradley has a heavy course load, which encourages her to start early. She then works until about 11:15 a.m., when she then takes a break for lunch. After taking a short break, Mayock-Bradley continues doing school work until it is time to go to swim or lacrosse practice around 3:45 p.m. 
"Swimming and lacrosse have kept me busy and focused," said Mayock-Bradley, "they have allowed me to interact with people throughout the day which I wouldn't get to otherwise."
Mayock-Bradley has practice until around 5:15 p.m., when she then heads home for dinner. After dinner with her family, she continues working on homework if necessary or hangs out and relaxes if not. She then heads to bed, where she will wake up to do it all again the following morning.