Seniors Wrestle Into the First Home Match of the Season
Rockbridge wrestling has been gaining popularity among students as the team is having a home match for the first time in three years. In addition to Dec. 1 being the first home match in three years, this match will be the team's senior night. 
There are four seniors for the 2022-2023 season: Thomas Maxwell, Ezekiel Mohr, Brice Hall, and Zac Huntsman.
Senior Thomas Maxwell was the District Champion, a state qualifier, and fourth at Regions his junior year. Maxwell plans on attending Virginia Military Institute, commissioning into the army, then after a number of years Maxwell plans to leave the army to go into state or federal law enforcement.
"I am really happy we are finally having a home match, it has been way too long since the last one," said Maxwell.
Winter sports started Nov. 7 and the team has had three weeks to prepare for their first match.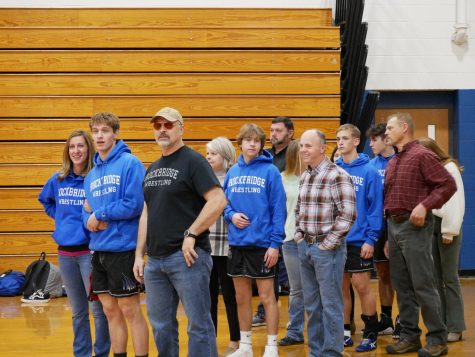 Senior Ezekiel Mohr placed 1st at Shumaker, a wrestling tournament, and 3rd at Districts his freshman year and he placed 1st at Districts, 3rd at Harrisonburg invitational, and 3rd at Shumaker his junior year. After graduation, Mohr plans on attending a four-year college.
"Wrestling is a temporary escape from life and my stress," said Mohr. "It's something I can always count on and have fun with."
Senior Brice Hall received a Region title and a District title his junior year, as well as two 4th place medals at States his sophomore and junior year. After graduation, Hall plans on going into the coast guard.
"Wrestling keeps me going and it gives me something to work for," said Hall.
Senior Zac Huntsman plans on pursuing an education in engineering after graduation.
"I use wrestling as a way to push myself mentally and physically and improve with the team," said Huntsman.
The result of senior night, a dual against Fort Defiance, was a win with the end score being 43-27.
The seniors' matches went as follows; Maxwell lost 3-8, but had three escapes, Mohr started his match off strong with a takedown and ended it quickly with a pin, Hall also started his match with a takedown, and he gained three back points before pinning his opponent, and Huntsman won his match with a pin.
The next match is on Dec. 7 at Wilson Memorial High School. For more information, visit the Rockbridge Athletics website.