NFL Draft Kicks off 2023 Season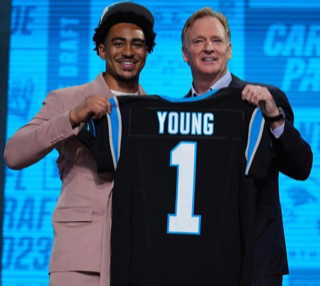 The biggest offseason event for the NFL took place in Kansas City last month. The NFL Draft was held from April 27 through April 29. 
The draft was filled with superstars and surprises who are bound to get their team's fans excited. Fans were able to get a look at the next generation of their favorite team. Let's take a deeper dive into this year's draft.
The top two consensus picks in this year's draft were Alabama Quarterback Bryce Young and Ohio State Quarterback CJ Stroud. Both of these players were highly decorated college legends and are projected to be the future of their respective franchises. 
The Carolina Panthers selected Bryce Young with the number one overall pick. This marks a new era in Charlotte, as they hope to have found a stable quarterback situation for the first time since they had MVP winner, Cam Newton at the helm in 2015. 
With Young off the board, the Houston Texans swooped in and picked Stroud with the second overall pick. He looks to provide some stability within an organization that has been clouded by scandals in recent seasons. Both of these quarterbacks have potential to terrorize opposing defenses for years to come.  
Sophomore Jack Jenson is an Alabama fan who watched Bryce Young in college.
"Bryce is a terrific player and should help the Panthers out a lot. He makes difficult throws look easy," said Jenson.
The rest of the first round was filled with other highly touted prospects. Some notable players included Boston College Receiver Zay Flowers and Clemson Defensive End Bryan Breese. Flowers is a threat due to his vertical speed and ability to win one-on-one matchups against talented defenders. He is headed to Baltimore and will become a Raven with newly extended quarterback Lamar Jackson. Breese is a seasoned veteran who won numerous big time games at Clemson. He brings a tough and gritty mindset to a New Orleans Saints defense that is searching for an identity. 
Junior Milo Mulitalo is a Ravens superfan who was pleased with the draft selection of Zay Flowers.
"It was hard not to get excited when seeing the highlights of Flowers. He brings the threat of speed that our offense badly needs," said Mulitalo.
There are often players drafted in later rounds that go on to become very impactful NFL players. Tom Brady is a prime example of this, as he was selected in the sixth round of the 2000 NFL Draft. Georgia Running Back Kenny McIntosh had a very successful college career and fell all the way to the seventh round, where he was selected by the Seahawks with the 237th overall pick. Look out for some later draft picks to burst onto the scene as the season kicks off in September.
The NFL Draft always provides fans with some excitement for the upcoming season, and 2023 proved to be no different. Tune into CBS and Fox networks this fall to watch the 2023 NFL Draft Class take the league by storm.