Rockbridge Swim Invitational Recap
Last weekend, Rockbridge County High School's swim team traveled to All Timesland at Gator's Aquatic Center in Roanoke to swim in an invitational. The seven swimmers that attended were all able to make it into the finals for at least one individual event.
Junior Alison Pfaff placed first in the 100 backstroke and the 100 butterfly, achieving state cuts for both of those.
"Overall I felt good about the invitational, it definitely went better than I was expecting," said Pfaff.
Senior Lucinda Hanstedt, a captain, placed second in the 50 freestyle.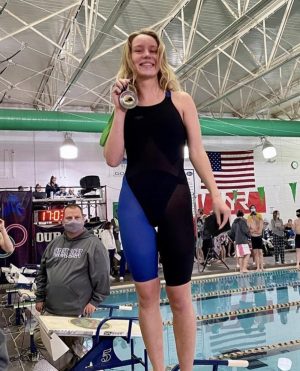 "I'd been hospitalized for the first part of the season, had swum with a feeding tube once I got out of the hospital, and then had two outpatient surgeries the day before this meet, so all I wanted to do was finish my swim. I ended up performing a little better than I expected to though," said Hanstedt.
Sophomore WIlliam Gibbs set personal best times in the 200 freestyle and the 100 butterfly, placing 5th in those events during the A finals.
"I felt happy with my performance and enjoyed getting to cheer on my teammates," said Gibbs.
The boys placed 4th overall in the 200 medley relay and 5th in the 200 freestyle relay. Those scores were achieved by William Gibbs, Spencer Pfaff, Benjamin Barney, and Lincoln Garcia.