LexVegas Bistro Review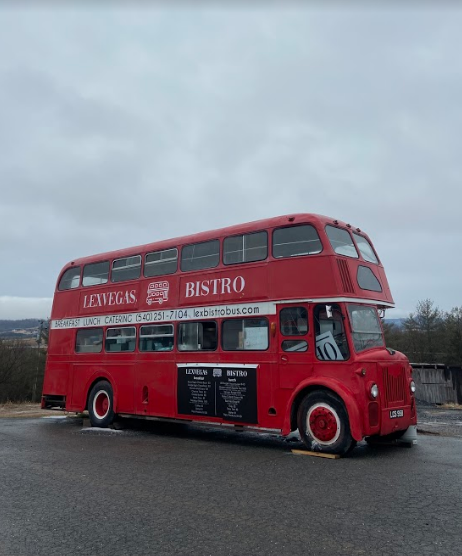 A reinvention of a food truck emerged in our county a few months ago, and it will make your mouth water everytime you pass it. The LexVegas Bistro fixes up hearty, hand-held dishes, but instead of on a truck or trailer, it is on a double-decker bus. The bus was started by Chef Troy Sheller and it opened in November of 2020. This pop-up is a spot that is growing in popularity for locals and students to grab a quick breakfast or lunch while on the go. There is no indoor seating, so the whole experience gives off a "drive-in restaurant" environment where you order and eat from your car, which adds to its uniqueness. While the bus is currently stationed in a parking lot directly across from Wal-mart, the LexVegas Bistro is planning to move their operation to different locations around the county. 
During their morning hours between, the LexVegas Bistro's breakfast menu will hit every spot and curve your early appetite. Their biscuits are fluffy, buttery perfection, and you can add a combo of bacon, sausage, egg, cheese, and gravy. Or you can have all of that in a deconstructed format with a side of home fries when you order their platter. The LexVegas Bistro's breakfast menu is not only limited to biscuits though. The bus also offers tacos and burritos with Mexican flavors that will make your senses dance. Their chorizo taco is a load of refried beans, fluffy scrambled eggs, and crispy chorizo (spanish pork sausage) that is all wrapped inside a warm flour tortilla. This has a great subtle heat that will not blow your socks off but will certainly wake you up on a dull morning.
The LexVegas Bistro's lunch menu contains unique handhelds and sides that you can not find anywhere else in the Lexington food scene. The burger that makes this bus stand out consists of a venison (deer) patty topped with melted swiss cheese, a smokey bacon-fig jam, and your choice of fixings, all sandwiched between two slices of a fluffy roll. The bus also offers a classic American burger, chicken-chipotle brie sandwich, and a loaded hot dog. Their grilled cheese is larger-than-life and absolutely delicious. Melted in between two slices of crispy bread is a trifecta of cheese: American, Swiss, and Provolone. The bread is smothered in salty butter that makes you feel like you are eating movie theater popcorn. All their burgers and sandwiches are accompanied by fries. The Bistro's fries were unlike any other —with a fluffy center and a textured, crispy exterior that gives off a mouth feel (that reminds me of a tater tot). I would recommend you try these salty works-of-art if you wish to perfect your meal at the LexVegas Bistro. 
My favorite thing about this restaurant is the invitation to become creative in how you enjoy their food. You can opt for grab-and-go for the car, you can sit in chairs or on a blanket somewhere outside, or you can pick up the food and bring it home for a family dinner. The food is hot, fresh and messy, and that is how you know it is authentic. This whole experience of dining was unique and delicious and this restaurant is definitely recommended for someone craving a guilty pleasure but still wanting to eat local.