The temperature drops, the leaves change, and the daylight grows shorter. Students are getting excited for their favorite fall activities, but don't know where they can do them. The wide variety of festivities can quickly become overwhelming for some. 
There are a couple places near Rockbridge County where students can go to enjoy fun fall festivities. About an hour away, in Blue Ridge, Layman Farms has a variety of fall activities. There is a 10 acre corn maze, cow train, hay wagon rides, slides, and a pumpkin patch. 
Sophomore Libby Pearson shares her experience at Layman Farm.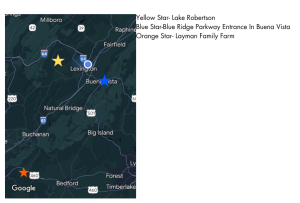 "My favorite part was getting to ride behind a tractor on little cow cars. I would definitely recommend it to other people because it is the perfect fall activity to do with friends," said Pearson. 
Many students also enjoy the Blue Ridge Parkway, which is about 20 minutes away. This is a place to go on scenic drives to see the fall foliage, and take advantage of their 369 miles of hiking trails. 
Senior Madison Poulsen shares her thoughts on the Blue Ridge Parkway. 
"I love looking at all the leaves changing colors and if it's windy, I love seeing them fly around," said Poulsen. "I always enjoy doing this with some friends, but sometimes it's especially nice to go alone, it's very peaceful and clears my mind."
Camping is also a popular fall activity as there are many camping grounds near Rockbridge. Lake Robertson is about 25 minutes away. 
Sophomore Thomas Jones talks about camping at Lake Robertson in the fall.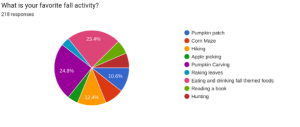 "I like going [camping] with my dad and a couple friends. We fish, go swimming and have a bunch of fun," said Jones.
A poll was sent out to students to see opinions on their favorite fall activity. Out of 218 students, the activity with the most votes was pumpkin carving, with 24.8% of the votes. It was closely followed by eating fall themed foods and fall drinks, with 23.4%. Hiking and visiting pumpkin patches were also popular.
Living in Rockbridge provides many opportunities to enjoy fun fall festivities with friends.