SAGA Holds a Educational Transgender/Nonbinary Workshop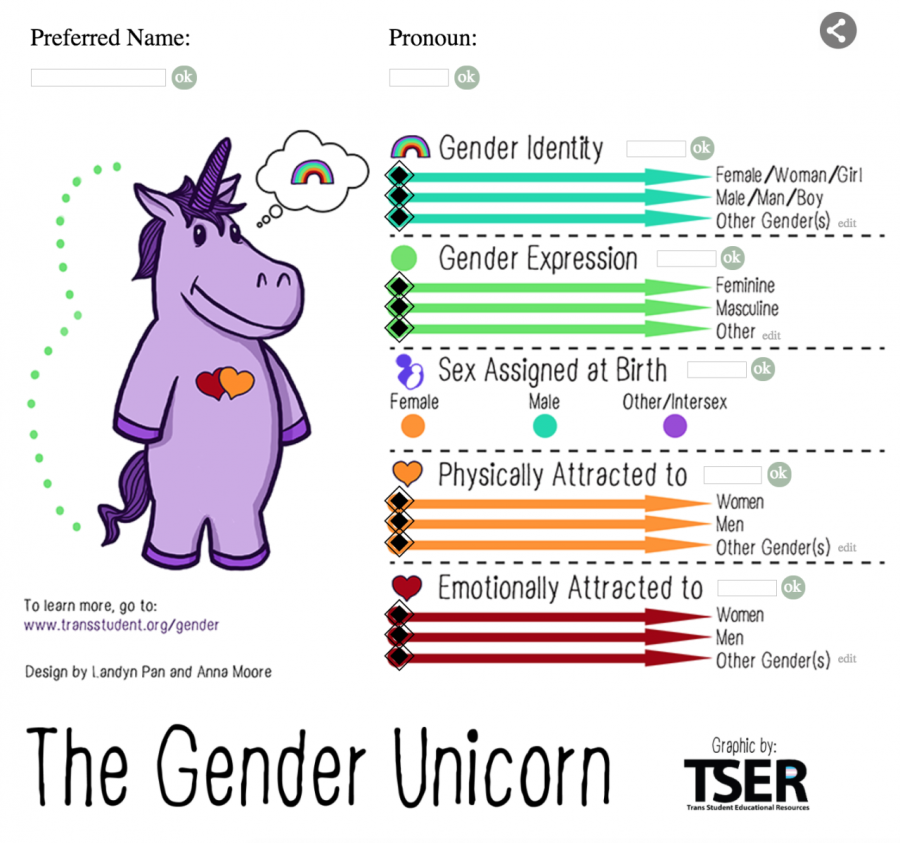 The Sexuality and Gender Awareness club (SAGA) hosted a transgender/nonbinary awareness workshop on Dec. 9th. Guest speakers Dr. Sarah Horowitz, who goes by she/her pronouns, and Lucie Fielding, who goes by she/they pronouns, talked to students during third period. (This practice of introducing oneself and saying one's pronouns is becoming more common place as the understanding of less conventional genders becomes more mainstream).
They discussed pronouns, terms, common misconceptions, and transgender and nonbinary rights. LGBTQIA+ is an acyronym representing lesbian, gay, bisexual, transgender, queer or questioning, intersex, and asexual or agender people. Some of these groups describe sexual orientation, while others have to do with gender.
The purpose of the workshop was to educate students and faculty about gender.
"[We want to] support good allyship and provide resources for folks who may be questioning their gender identity, or have questions regarding themselves, a family member, or a friend," said Fielding.
In the US and VA there is still a long way to go for people in the LGBTQIA+ community to get equal rights. 
"It's so much more than marriage, property, and adoption. It's also non-discrimination policies, it's also protections against violence, and harassment. Particularly for trans women of color, there's been a huge uptick in violence, particularly after Trump was inaugurated," said Fielding. 
Today, LGBT people are more likely to be unemployed, food insecure, and uninsured, according to the Williams Institute. According to a survey conducted by the Human Rights Campaign, over half of transgender male teens, 29.9% of transgender female teens, and 41.8% of nonbinary youth reported attempting suicide in their lifetime. 
The overall understanding of LGBTQIA+ people has gotten a lot better in recent years, particularly with respect to pop culture. 
"That representation gives people a broader sense of the possibilities out there and visibility," said Horowitz, "and shows trans people, and LGBTQIA+ people more generally, flourishing and thriving."
RCHS does not have a non-discrimination policy that protects LGBTQIA+ people, something that SAGA has been trying to change for the past two years with no success. 
"Everytime we ask them 'hey can you change a few words to show you accept and support LGBTQIA+ people?' they shoot it down, and all our attempts at discussions are brushed off. By the end of this year, we hope to get a new non-discrimination policy." said Junior Abby Lynch, who goes by they/them pronouns. 
A new policy, like the one SAGA has proposed, aims to protect LGBTQIA+ kids from bullying and pave the way for a more safe school. 
As of now, RCHS is not a safe, accepting space for LGBTQIA+ students.
"Overall I think [RCHS] is not welcoming, but relatively tolerating." said Lynch, "Most of the teachers don't use my pronouns, I know they aren't trying to be disrespectful… teachers should know that if kids feel comfortable enough to tell teachers their pronouns or that they have a problem or aren't comfortable in a class, that they should accept that. That should be something that they automatically do, without making it a big deal."
RCHS and the rest of the US still have a long way to go to reach full acceptance of LGBTQIA+ people. In the meantime SAGA will continue to spread awareness about LGBTQIA+ issues. 
"It feels like a lot of people are too passive to address these topics," said Lynch, We are just people trying to live our lives, treat us the same, we're just people like everyone else."