Rockbridge Ballet Dances into a New Season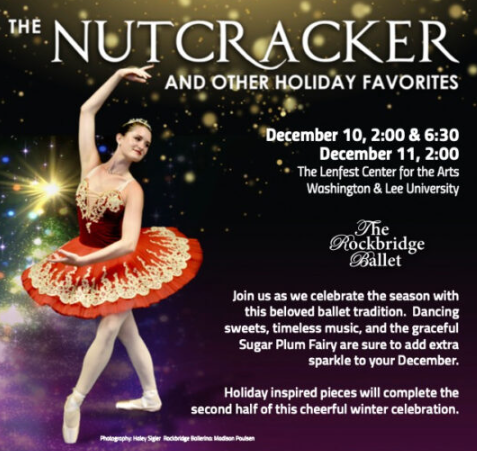 In Rockbridge County, there are outlets for talents everywhere, whether it's athletes, artists, or businesses. Another talent that Rockbridge has is our dancers. These dancers put in the work to become more and more successful. 
 Rockbridge Ballet is a non-profit organization located in Lexington, Virginia. They offer numerous, excellent classes such as pointe, modern, ballet, tap, and jazz, just to name a few. Classes are offered to boys and girls of all ages and all skill levels. They also have summer camps and practices to prepare students for dance season during the school year.
Recently, classes have started back up and dancers are starting to get back into the loop of things. Senior Anna Wilson has a positive outlook on the season.  
"It keeps you on your toes and you're always learning something new," said Wilson. 
Every year, Rockbridge Ballet puts on great performances in local facilities. They have performed shows such as The Nutcracker and The Wizard of Oz. They also perform in a Gala, along with an art auction at Washington and Lee University. 
Freshman Ella Cate Brown has been dancing for 13 years and is a member of ballet, pointe, jazz, modern, and tap classes. 
"Since the last [performance] so many new people have joined the Company and they each bring something new to the Studio," said Brown.
 This year, the December performance will be The Nutcracker. Last year, the first performance was The Wizard of Oz. 
"The Wizard of Oz is more of a theatrical performance and the Nutcracker is a traditional ballet, " said Wilson.  "I love both, but I'm excited to do a ballet after not having done one for a year and a half." 
 Rockbridge Ballet does a wonderful job at performing all kinds of dances. The dancers are able to entice  the crowd with emotion through their dances. 
Lexington is more than thankful to have a studio like The Rockbridge Ballet. They offer many opportunities for many people. Between classes, performances, and other socializing events, Rockbridge Ballet has it all. They will perform The Nutcracker Dec. 10 and 11 at the Lenfest Center at Washington and Lee University. Go to The Rockbridge Ballet's website (https://www.rockbridgeballet.org/)  for more information and tickets.