Government Officials visit RCHS Seniors
Rockbridge County High School government students were given the opportunity to hear first hand accounts of how bills become laws at both the state and federal levels, when Representative Ben Cline and Delegate Ellen Campbell visited students during their government class periods. Both Cline and Campbell, originally from Rockbridge County, visited seniors during two separate assemblies on March 3 and March 6.  
The goal of these two visits was to give students an opportunity to learn more about how bills are passed in the Virginia House of Delegates and the United States Congress, as well as to hear first-hand accounts of how the government operates. At the end of each presentation, students had the opportunity to ask questions, and topics discussed by Cline and Campbell included how each of the two separate houses operated, how they were working to improve Rockbridge County, and their opinions on various political issues. 
Mr. Andrew Simon, who teaches United States History and Government at RCHS, invited Delegate Campbell to come and speak to the senior government classes. Simon explains how having a speaker who works for the government enhances what is taught in the government classrooms. 
"I think it really helps us understand where our voice fits in the system. For students to be able to see that there is somebody who represents us in Richmond but lives in our own community, that is a really cool connection to make," said Simon. 
During Delegate Campbell's visit, she discussed how bills in the House of Delegates get brought there and voted on. Delegate Campbell shared her thoughts on why it is important for students to learn about how the government works.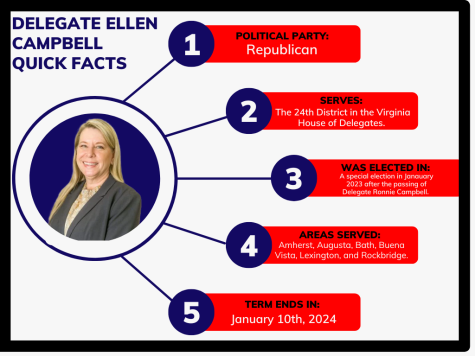 "I think it is important for the students to learn a lot ahead of time because they are going to be out there and they are going to be engaged. We want [students] to be excited about the [legislation] process and understand it. We mostly want them to be engaged,"  said Campbell. 
During the question and answer section of Campbell's talk where students were free to ask questions, a question arose about how Delegates receive legislation requests from their constituents. 
"Here in a small area, I see so many people and we go to the same grocery stores, the same churches, the same shops, so I do get a lot of [requests there,] but I also do get a lot of emails and telephone calls at the office about potential opportunities for legislation. We are extremely accessible, so you can call, text, and we want to hear from everybody and we want to know what is important to you," said Campbell. 
Following Campbell's response, another question from a student was asked about what she was working to do to improve Rockbridge County High School. 
"I am proud to say that we have great schools in Rockbridge County. I think that there are things that we need to do though and I think we're looking at that," said Campbell. "Governor Youngkin has put a lot of emphasis on education, and we need to make sure that we have and retain the best teachers, which I think we do here in Rockbridge County, and we need to make sure that we are here to support them. We also need to make sure that [students] have the best programs and most rigorous curriculum."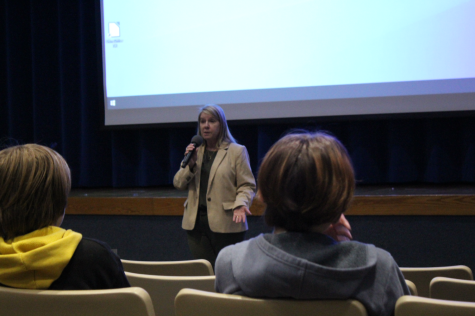 A third question was asked in regards to how Governor Youngkin and the General Assembly planned to fix the mistake that messed up the Education budget earlier in the year.
"We do know that there was a mistake that was made that did impact the education budget. I am proud to tell you that before we left, we passed part of the budget that will correct that mistake. No school will lose any money, and no one will get any less money than they were approved [for.]" said Campbell. 
Weeks prior to Ben Cline's visit, his office contacted RCHS to schedule a visit to talk to government seniors. Representative Ben Cline stopped by RCHS during second period on Monday, March 5 to talk to students about the importance of voting and how bills in Congress are passed, as well as commenting on his political philosophy. Representative Cline then spoke on why it is important for people that are nearing the voting age to become educated with the issues in their community. 
"The decisions that are being made at the local and state and federal levels affect people right here in Rockbridge County whether you are 18 or not, so the sooner you can register to vote the sooner you can start impacting those decisions," said Cline.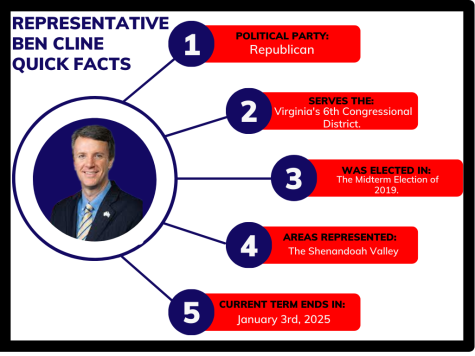 Cline then went on to discuss why it is important for students to learn how to work with people who have differing opinions from themselves. 
"You have to learn to get along and work with the other side. Growing up in Rockbridge County, I learned how to get along with people who did not think like me, disagreed with me on certain things, and what you will find is this school is a great way to bring people together from all walks of life and it is good practice for life." said Cline. 
Representative Cline continued to discuss the percentages of votes he receives during each election. 
"I win with 65% of the vote, [and] I do not win 100% of the vote. 35% of voters disagree and would like my opponent to win and their views are the view of my opponents. That does not hurt my feelings, but in fact it makes me more interested in what the 35% are thinking. I am really interested in wanting to know what the 35% think." said Cline. 
To conclude his talk, Cline emphasized the importance of young adults registering to vote and learning the issues in their community. 
"If you are 18 and you have not registered to vote, please register. I want you registered so that you can voice your opinion because too few people vote and that does not matter regardless of the party you are in," said Cline. "And if you are not 18 yet, it does not hurt to learn the issues, because that way when you are 18 you will be ready [to vote.]" 
After the question and answer portion of Cline's talk, students were able to go and shake hands with the representative and thank him for his visit. Senior Brandon Grow comments on what valuable information students gained during these two visits.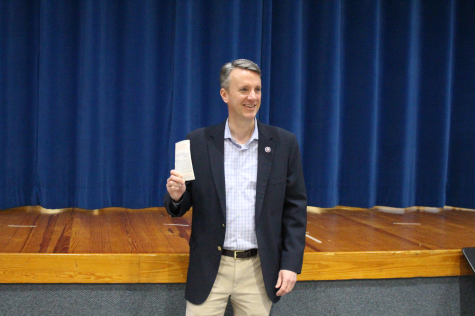 "There were some things [that were talked about] that corresponded with our government class but I also learned that Ellen and Ben work in two different parts of government and we were able to have the firsthand experience of learning how both of them are similar but different," said Grow.