Goldlink Finds Brighter, Homegrown Sound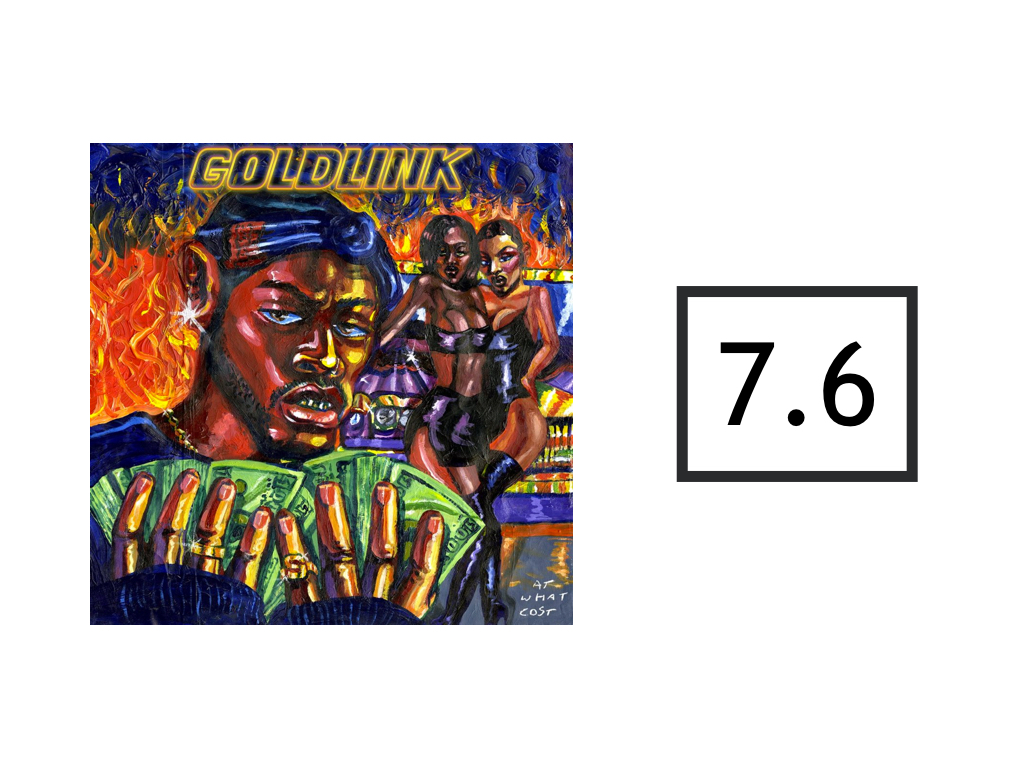 Type in "DMV rappers" into Google and the list you get will be short. Pusha T and Wale will come up, so might Logic. If you extend the search to all of Virginia, Missy Elliot, Pharrell and a host of others enter the mix, but the D.C.-Maryland-Virginia area is not particularly noted as a hotbed for new, innovative hip-hop.
Creeping up that short list of rappers from the D.C. metro is Goldlink, the 23 year-old MC whose zippy flows have caught the ears of a host of electronic producers, earning him features with producers KAYTRANADA and Chet Faker and tour spots with Flume and SBTRKT. GoldLink's definitively dance-oriented sound on mixtapes, "The God Complex" and "And After That, We Didn't Talk" has made him a top MC on the cutting edge of electro-rap, setting himself apart from his DMV peers.
But on his major label debut, "At What Cost," GoldLink steers his sound back home, applying his rhythmic talents over dancehall and go-go inspired beats for an album as diverse and animated as the city that inspired it.
GoldLink has always incorporated go-go, the lo-fi funk spinoff of early 1970s D.C., into dancey rap songs, but never as prevalently as on "At What Cost." No track on the album wears the genre on its sleeve quite like the fourth track, "Hands On Your Knees," an interlude that sounds like a recording from a night club 40 years ago, with its loudmouth middle aged MC repeatedly chanting, "Ladies! Get off the wall! Get ya a– up off the wall!" That interlude introduces D.C.'s sound as it was. The rest of "At What Cost," shows how it is changing. Tossing in conga drums, slap bass, and syncopated percussion into high-tempo rap beats, GoldLink incorporates the offbeat charisma of go-go into high-energy hip-hop.
Even the definitively hard rap of "Kokamoe Freestyle" gets a taste of the go-go conga here, a colorful addition that lets GoldLink spit bars about his hometown over a beat that is just as locally inspired, though less conventional.
He sounds happier going back to his roots as well, as GoldLink's prior two mixtapes see him moodily recounting past loves and inner demons, here the MC more contently strolls through his hometown, nostalgically but rarely regrettingly. GoldLink sets a bright tone for the album on the lively third track, "Have You Seen That Girl?." Here, GoldLink takes us on a bustled tour through D.C., shouting out Fairmont Heights, Wahler Place, Georgetown, and Simple City over the KAYTRANADA-produced dancehall beat.
Even when Goldlink falls victim to his moodiness, like in "Summatime," where he is joined by fellow Washingtonian, Wale, the rapper's dark spells do not last long. GoldLink recovers from the murky seventh track with "Roll Call," an amped up ode to his hometown, opening with peppy electric guitar, syncopated congas, and a more spirited GoldLink: "Uh, bossed up, feelin' good this year / Word round town, we the real hood this year."
That is not to say that all of GoldLink's retrospective songs find him sulking, though. On "Meditation," GoldLink raps over another dancehall-inspired beat to recount a past love from the DMV. GoldLink uses quick, choppy lines on the track to capture the hectic energy of an undefined relationship: "You don't want religion but you like this / You don't want kids but you want this." The dancehall inflections take front and center on "Meditation" where KAYTRANADA, a Canadian with Haitian roots, lends his island rhythms to back GoldLink's danceable flows. Admittedly, the prevalence of dancehall on the track and the album overall is somewhat reminiscent of Drake's past two LPs. However, where the Toronto rapper lacked in authenticity, GoldLink sounds more natural, succeeding with a more rhythmic, less melodic rapping style that much better suits the Caribbean sound.
Of all GoldLink's strengths on display on "At What Cost," his authenticity benefits the album most potently. By honoring D.C.'s go-go glory days and giving honest, unadulterated depictions of the sights and experiences in his hometown, GoldLink offers up a refined tribute to his hometown without forgetting his truly unique rapping style, giving the DMV area an album all its own.