Wildcats Capture District Title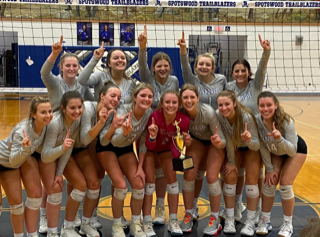 The Rockbridge County Volleyball team traveled to Spotswood High School for the Valley District Championship match Oct. 27. This was expected to be a closely contested game because the two teams split their two regular season matchups.
The Wildcats dropped the first set 22-25. Then, they rallied to win the next two sets before dropping the fourth set. This set up a winner-take-all fifth set.
The fifth set was a back and forth affair that saw both teams take the lead. The Wildcats ended up with a 15-13 win in the fifth set. Junior outside hitter Sophie Vaught had the final kill to secure the win. This sent the Rockbridge fans into a frenzy, while leaving the Blazers shocked.
Senior setter Jaden McCoy played a key role in the match.
"We were very motivated throughout the match. It felt great to win such a big game in front of a rowdy crowd."
This win put an exclamation mark on a successful regular season that saw the Wildcats finish with a 19-5 record. They also continued their dominance of the Valley District, claiming their fifth district title in a row.
The Wildcats look forward to the start of the Region 3C Tournament. Their first round game will be at Spotswood Nov.1.