Boys Basketball beats the Blue's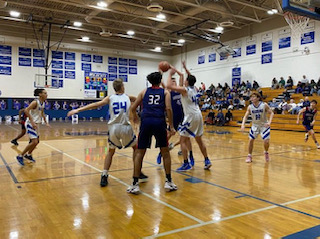 On Jan. 7, the boy's Varsity basketball team traveled to Parry McCluer High School, and defeated the Fighting Blues with a final score of 59-52. This win at Parry McCluer was the fifth win in a row for the boy's Varsity basketball team. 
Senior Daronde' Stores comments on the win against Parry McCluer. 
"It really meant a lot to the seniors, especially because for most of our high school career we have been getting beat by Parry McCluer in basketball. So to be able to beat them twice in basketball it felt good and we worked hard for it," said Stores. 
Stores shares his thoughts on how the first Parry McCluer win encouraged the team. 
"The first time we beat Parry McCluer, it gave our team confidence. [Now] it has given us a five game win streak. We have really been working hard together and I look forward to the rest of our season," said Stores. 
The Cats' are next scheduled to play off against Stuarts Draft at Stuarts Draft High School on Jan. 11 at 7:00 pm. For a full look at the team's roster and schedule, visit Rockbridge Athletics.